Regular meditation has been demonstrated in studies to improve our mental wellness. For example, meditation has been shown to help with sleeplessness, anxiety, high blood pressure, and depression. So, meditation is the most effective approach to unwind our brains. If you cannot take the initial step toward meditation, you may always attend offline lessons. If you don't have time to attend meditation sessions, you may utilize Meditation Apps. We previously published a list of the top Meditation Apps for Android. Today, we'll go through the greatest Meditation Apps for the iPhone.
Top 10 Best Meditation Apps For iPhone
These Meditation Apps are free with in-app purchases and are accessible on the iOS app store. So, let's have a look at the top Meditation Apps for iPhone.
1. Insight Timer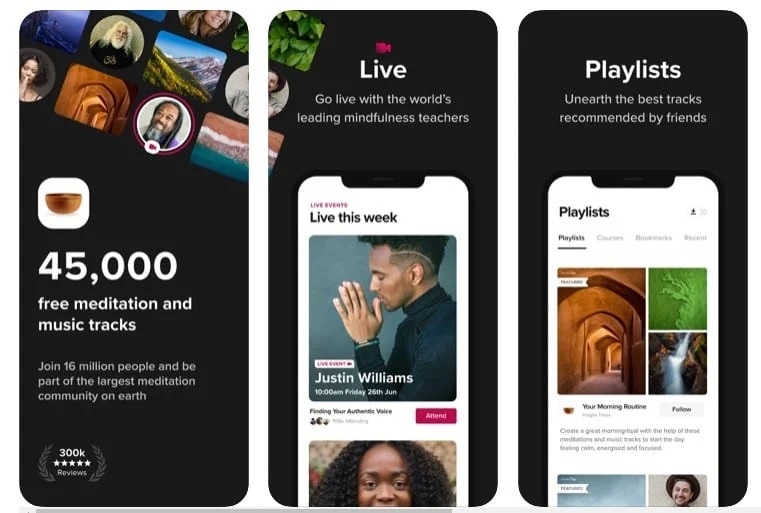 Insight Timer, on the other hand, is an all-in-one Meditation Apps for iOS devices. Many guided meditations and discussions are available on the app, conducted by leading meditation professionals, neuroscientists, psychologists, and instructors. The app's free membership gives you free access to thousands of guided meditations. It includes guided meditations on topics such as sleep, self-love, leadership, stress reduction, addiction treatment, and so on.
2. Meditation Oasis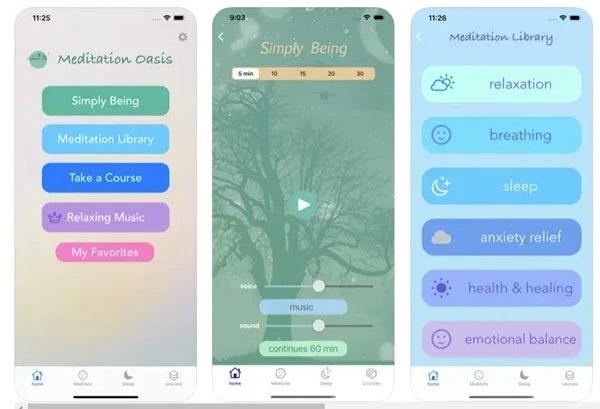 Meditation Oasis is an iPhone app that may assist you in learning or practicing meditation. If you are an active meditator, you may utilize it to develop your meditation practice. The program incorporates meditation methods developed by Mary Maddux, a famous meditation instructor who has helped thousands of individuals across the globe. You must enroll in a program to learn meditation techniques. Users may choose between three distinct meditation programs after paying a monthly or annual membership.
3: Calm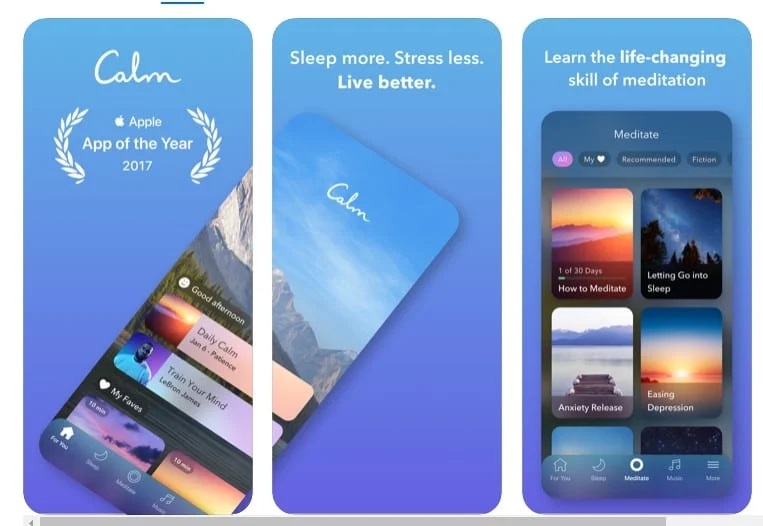 Calm is one of the greatest and most highly rated iOS Meditation & Relaxation applications on the app store. The software may dramatically enhance your sleep quality, reduce stress, and so on. There are also guided meditation methods, sleep tales, breathing programs, stretching exercises, and other features. Calm is, therefore, the greatest Meditation Apps for your iOS smartphone.
4: Medito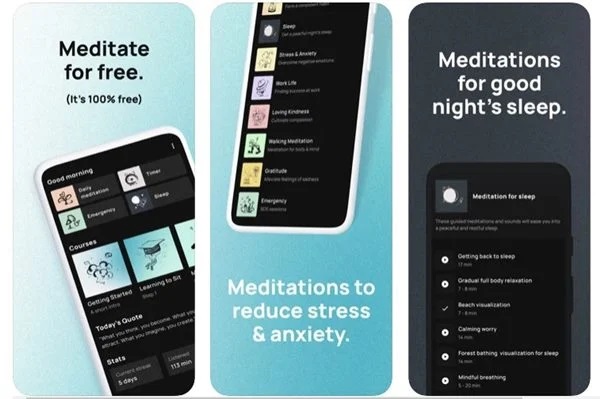 Medito is one of the greatest meditation and mental health applications for the iPhone. The software includes a variety of guided meditations, breathing exercises, mindfulness activities, calming sounds, and other features. If you are new to meditation, you may use the app to learn the fundamental principles and practices. It does, however, have a paid edition called Prime, which contains an intermediate course, daily meditations, sleep sounds and sleep tales, and so on.
5: Present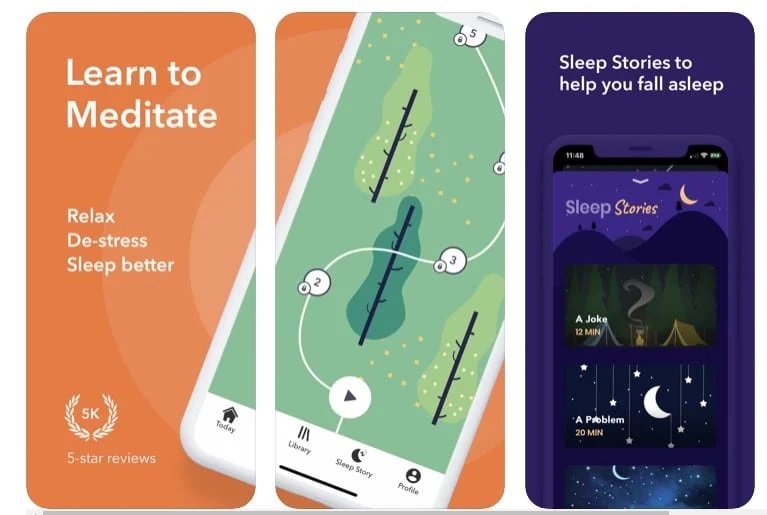 Present is one of the greatest and most highly rated Meditation Apps on the App Store, claiming to bring more clarity, pleasure, and happiness into your everyday life. Hundreds of mindfulness meditations are available via the app to help you de-stress, relax, and sleep better. Not only that, but the app can measure your progress with daily streaks and meditation time.
6: Headspace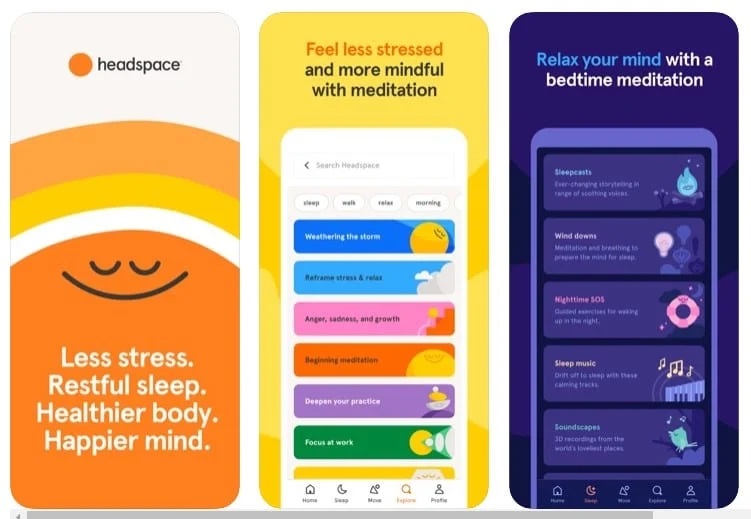 Headspace software acts as a mindfulness guide for daily living. You may easily learn meditation and mindfulness methods from world-class professionals with Headspace. In terms of functionality, the app provides hundreds of guided meditations on topics such as fitness, attention, sleep, and so on. It also includes a variety of brief meditation methods for rapid mental relaxation.
7: Oak – Meditation & Breathing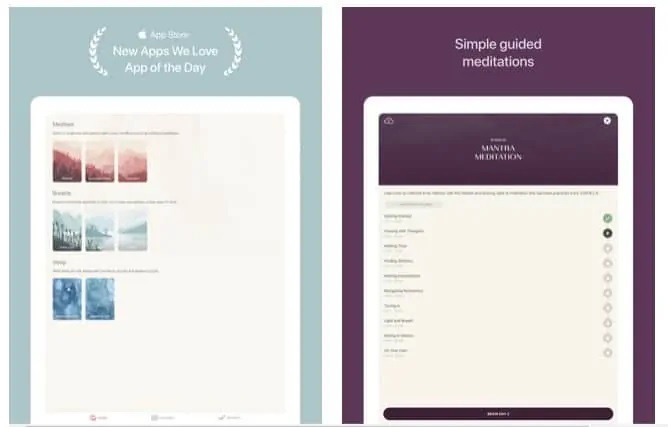 Oak – Meditation & Breathing claims that it will turn your meditation practice from an experiment into a habit. The app includes several guided, focused, and loving-kindness meditations. You may also choose a guided session time ranging from 5 to 30 minutes.
8: Relax Meditation: Guided Mind

Thanks to this software Relax Meditation: Guided Mind, meditation is now an easy, natural, and straightforward exercise for everyone. Relax Meditation: Guided Mind may be the greatest choice for you as a beginner since it offers step-by-step instructions on every meditation subject. It discusses meditation strategies for common issues such as self-esteem, relationships, success, creativity, and so on.
9: Meditation Studio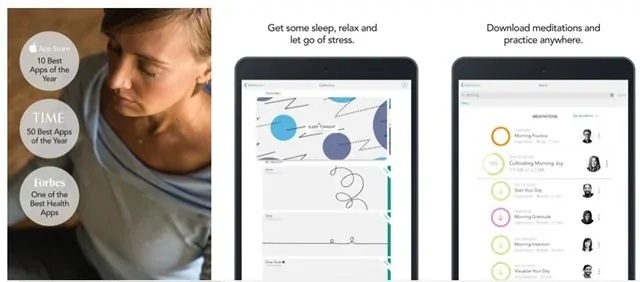 Meditation Studio may be the finest iOS software for reducing stress, and anxiety, improving sleep and boosting confidence. The benefit of Meditation Studio is that it guides you through each meditation session step by step. The program includes guided meditations on subjects ranging from happiness to performance, as well as meditations tailored to youth, children, adults, and mothers.
10: Sattva Meditations & Mantras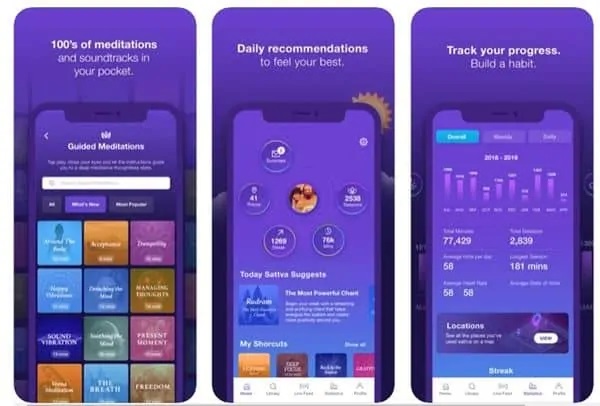 Sattva Meditations & Mantras is yet another excellent iPhone Meditation Apps available today. The wonderful thing about Sattva Meditations & Mantras is that all meditations, holy sounds, and Music on Sattva are offered by Sanskrit academics who have mastered the mind's delicate inner workings. The app includes over 100 guided meditations as well as a plethora of spiritual sounds and music.
Final Words :
Finally, these Meditation Apps for iOS will help you enhance your mental health. I hope you found this helpful essay! Please forward it to your friends as well. Please let us know if you know of any more iOS mediation applications in the comments section below.