Use Apple Maps On Windows PC: One doesn't need to know all the routes to their destination, thanks to the availability of navigation apps such as Google Maps and Apple Maps. All they have to do is enter the destination; these navigation apps will show them the routes. For another nation, you may also check the distance from point A to point B. That is the benefit that apps have brought to our lives. Several navigation apps provide various features but the same service. As a result, these apps have grown rather robust, with a limited margin of error.
When you check for navigation on a Windows user, you use Google Maps. Is this a guarantee that you won't be able to use Apple Maps on your Windows PC? In short, no, unless you know the method, we'll reveal it in this tutorial. However, if you like Apple Maps and want to use them on your Windows PC, you've come to the correct spot. This article will walk you through the steps required to run Apple Maps on a Windows PC. With that said, let us get started.
Apple Maps Features
Before you begin, you need to understand why you have chosen to use Apple Maps rather than Google Maps.
Drivers may use Apple Maps to get turn-by-turn directions.

It displays public transportation routes and schedules.

It will even display maps of inside buildings.

Enhancements to augmented reality Although it is rather limited, it is a fun way to travel.

You can save all of your favorite places.

It gives information about highways, parking, and tolls.

Printing choices for maps.
How Do I Use Apple Maps on Windows PC?
Apple Maps does not have a web version. Therefore, there is no straightforward option to go to a website and start using Apple Maps. DuckDuckGo, on the other hand, is a web browser that uses Apple Maps instead of Google Maps. DuckDuckGo is a popular online browser with better security than prevents trackers and phishing websites from obtaining your information. Here are the steps you need to follow to use Apple Maps on a Windows PC with DuckDuckGo.
1 – In your PC browser, launch the DuckDuckGo search engine.
2 – Search the site for any location.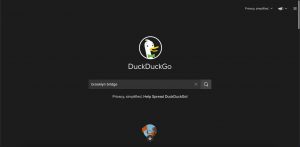 3 – As shown in the image, click on the Open Map icon.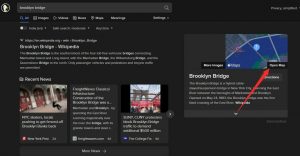 4 – This will launch Apple Maps in your browser.
5 – You can now continue your search for a new location. Essentially, you will be using Apple Maps to find a location.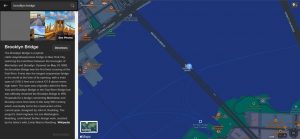 The greatest browser for using Apple Maps on DuckDuckGo is that there is no learning curve. In other words, unlike other navigation apps, you don't need to learn anything new to use Apple Maps. However, there are certain restrictions while using Apple Maps on the DuckDuckGo browser. For example, while you may create a route, it does not provide turn-by-turn directions. That is the restriction of using Apple Maps using the DuckDuckGo browser. We assume this is because Apple Maps is only available for usage on Apple devices. However, if you want to use Apple Maps on your Windows 10 PC, you may follow the above steps.
Why Is DuckDuckGo Not Using Google Maps?
The one thing that may come to mind is why DuckDuckGo uses Apple Maps rather than Google Maps. DuckDuckGo formerly used a mix of OpenStreetMap, Bing Maps, and HERE Maps. However, because the browser prioritizes privacy, using services like the previously mentioned or Google Maps, which collect data from everything, isn't an option for DuckDuckGo.
Apple Maps does not collect as much data as Google Maps and is a good option for a privacy-conscious browser like DuckDuckGo. When you exit the portal, the location information you enter on Apple Maps using the DuckDuckGo browser is immediately wiped. Aside from the option to use Apple Maps, DuckDuckGo has several features that make it viable if you want a web browser that does not gather your personal information and protects you from trackers. If you have any opinions on How to Use Apple Maps on a Windows PC? Please leave them in the comments section below.