Let's face it: archived files are one of the most common formats of files we deal with.
Modern Android phones come with an in-built file compressor that lets you make or open Zip files. But not every Android smartphone has the ability to compress files. If your phone doesn't come with a file compression app, you'll need to use third-party archive management apps. There are a lot of apps in the Google Play Store that can help you open and create zip files on Android.
List of 10 Best Apps To Open ZIP Files On Android
This article will give you a list of the best apps for Android that can open zip files. All of these apps do the same thing, which is to open and make ZIP files. So, let's check out.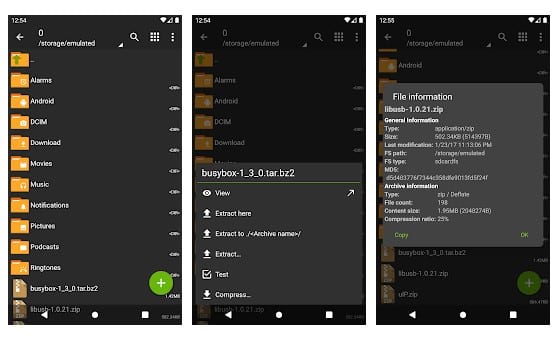 ZArchiver is the best free app for managing archives on Android that you should try if you want to find the best one. The app has a fairly simple user interface, which makes managing archives faster and easier. If we talk about file formats, ZArchiver works with Zip, 7ZIP, XZ, tar, etc. Aside from that, ZArchiver also supports multi-thread and partial archive decompression.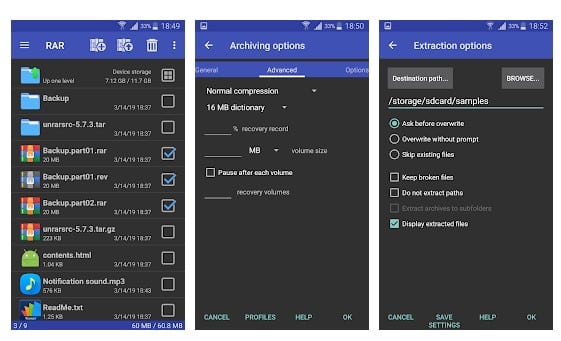 RAR is for Android phone users who want a simple, free, and easy-to-use app for compressing files. It is a zip archiver, extractor, and creator that can deal with zip files on Android. RAR also works with ZIP, 7Z, TAR, GZ, BZ2, XZ, ISO, and ARJ files. You can even use RAR to create RAR and ZIP files that can only be opened with a password. The app lets you copy, delete, move, and rename files and folders, as well as file, delete, and move them.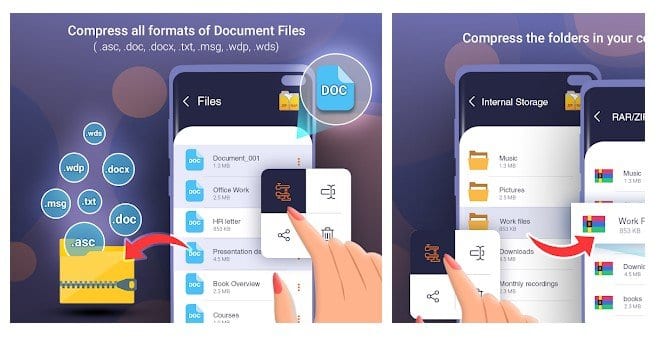 Zipify is a full-fledged file compression app for Android that you can get from the Google Play Store. It makes it easy to view, archive, compress, and uncompress RAR and ZIP files. It's a small app that finds all compressed file formats on your phone's internal memory and SD card. The only problem with Zipify is that it doesn't work with compressed file formats that require a password. Zipify doesn't let you create or open protected ZIP or RAR files.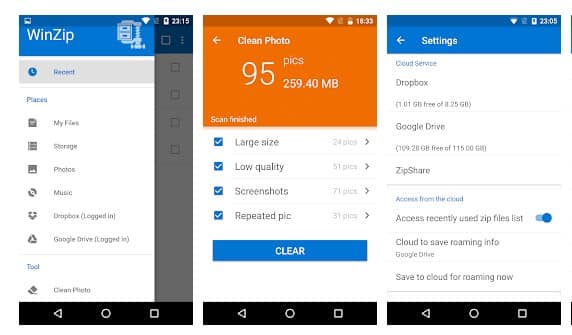 WinZip is the best-known free ZIP app on this list, and you can use it to make ZIP files and open ZIP files. When it comes to file formats, WinZip can open ZIP, 7Zip, 7X, RAR, and CBZ files. Even better, WinZip can also find zip files that are stored on cloud storage services like Gdrive, OneDrive, etc. With WinZip Premium, you can use 128-bit or 256-bit AES encryption to create and protect ZIP and Zipx files. Also, the premium version lets you use the ZIP and email features right away and gives you direct access to a popular cloud storage service where you can save your ZIP files.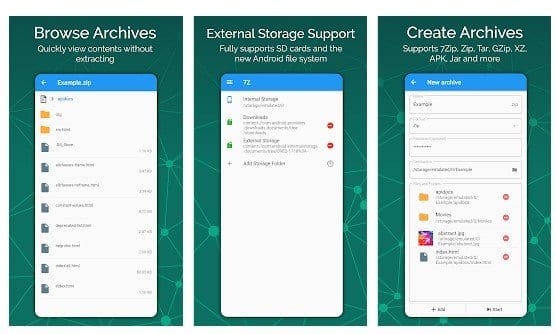 If you're searching for an Android app to manage archive files on your phone, 7Z – Files Manager could be the best pick for you. You can easily open or compress ZIP, RAR, JAR, or APK files on Android with 7Z – Files Manager. The app can also open zip files that have been password-protected. But to do that, you have to know the password.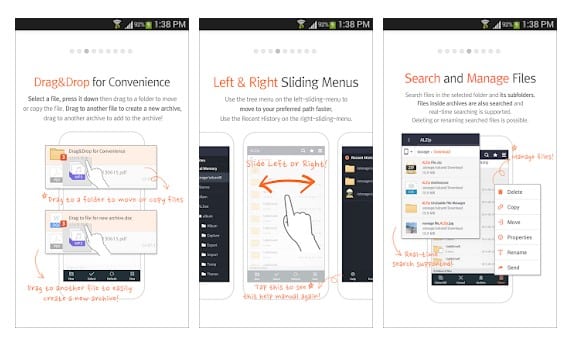 It is a full-featured, free file manager app for Android that can help you organise your files and archives. But ALZip has all the features of a paid MiXplorer Silver, even though it is a free Android app. ALZip can compress files into ZIP, egg, and all other formats. It can also extract files from ZIP, RAR, 7Z, egg, tar, etc.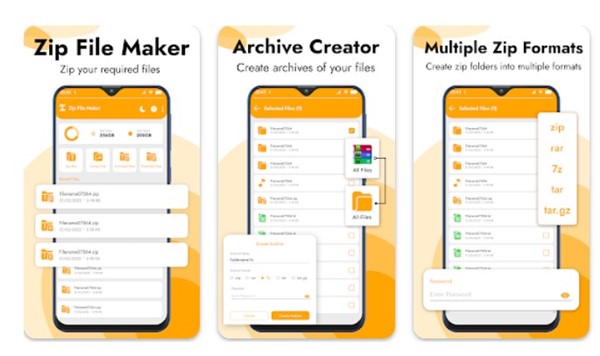 Even though Zip Extractor isn't as popular as some of the other apps that can compress files, it can still handle 7zip, JAR, Tar, and RAR files. You can compress your files in ZIP format by compressing them with this app. Zip Extractor also has a file manager that shows you a list of all the ZIP or RAR files on your device. From the app's interface, you can manage multiple ZIP files, extract them into a folder, or view them without extracting them. Overall, Zip Extractor is a great app for Android that lets you open ZIP files.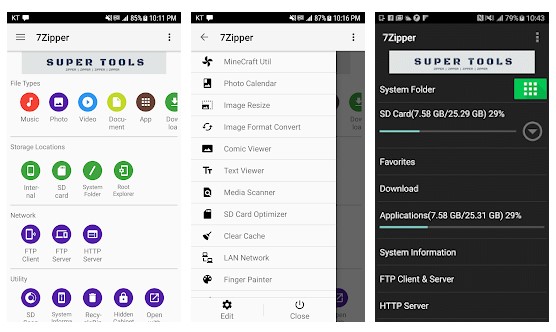 If you want an Android app to help you zip and unzip compressed files, 7Zipper could be the best pick. It can decompress almost all file formats, such as ZIP, EGG, ALZ, TAR, GZ, RAR, JAR, etc. It also had a viewer for images and a viewer for text.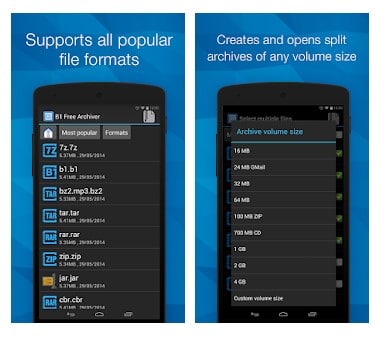 B1 Archiver is one of the best file compression apps for Android. It can unpack formats like ZIP, RAR, B1, and 34 others. Not only that, but B1 Archiver can also be used to create ZIP and B1 archives that can only be opened with a password. It also has a feature called "Partial Extraction," which lets you extract only certain files.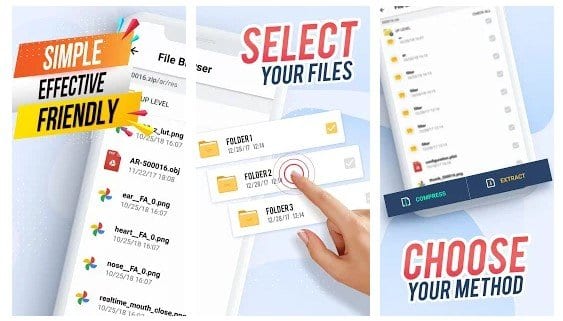 Like all of the other apps on this list, ZIP Master helps you manage archives. People who use Android like the app because it's popular and easy to use. You can easily extract ZIP and RAR files on your Android device with ZIP Master. But it's missing some important features, like the ability to extract encrypted files or create zip files with password protection.
Final Words:
You can get and use these apps for free, and they can open ZIP files on Android. So, these are the best apps for Android that can open zip files. If you know of other apps that can open ZIP files, leave the name of the app in the comments.