Delete TikTok Drafts: TikTok is all about displaying your abilities to the world. While it may appear easy on the surface, making a beautiful video is easy! Several cuts go into making the video. Even then, you might want to wait to post the final cut. If you saved your TikTok video as a draft but want to delete it immediately, here's how to do it.
What Exactly Are TikTok Drafts?
Drafts are saved videos, whether edited or not, that you began but still need to finish on TikTok. When you save a TikTok draft, the video is published to the TikTok server. If you recorded the video using the TikTok app, it would not appear on your phone's camera roll/gallery by default. Drafts can be saved after your video has been edited but before it is posted. There is no limit on how many drafts you may store on your TikTok account. These saved drafts are private, and only you have access to them.
How To Easily Save A Draft To Your Phone Gallery Or Photos Folder?
TikTok does not allow you to store drafts in your local storage, and as previously stated, TikTok drafts are not accessible from your device's gallery. However, you may save your drafts to your phone for safekeeping. Follow the steps below to save your TikTok draft to your phone.
1 – Open the TikTok app and locate the draft you want to save. To open the editor, tap on the draft.
2 – We'll now adjust the video's privacy settings so only you can see the post. Tap Who can view this video to do so.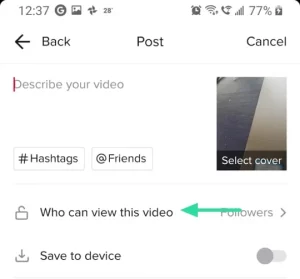 3 – Now, select Private.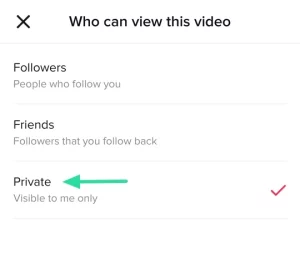 4 – Finally, toggle Save to the device is enabled. Put your video up there. Don't worry; you will be able to see it.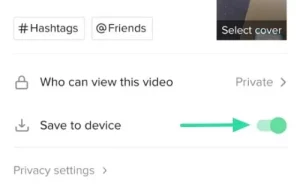 A copy of your video will be saved to your local store as soon as you post it. So check out your gallery now! You may now delete the private video from your profile. Select the video, tap the three dots, and then select 'Delete.'
How To Easily Remove Saved Drafts On TikTok?
Delete TikTok drafts is simple and uncomplicated. Drafts are saved in your profile. Even though they display alongside your submitted videos, they are only accessible to you.
1 – To delete your TikTok drafts, open the app and tap 'Me' in the bottom panel to launch your profile.

2 – Now, tap on a draft on the 'Public videos' page.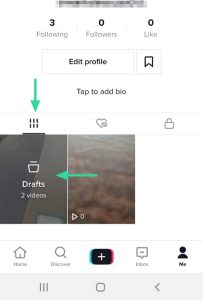 3 – Tap 'Select' in the top right corner to select which drafts you want to delete. You can delete many TikTok drafts at the same time.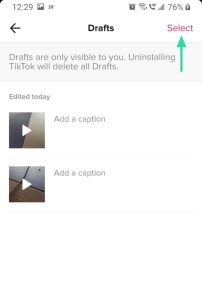 4 – Once you've picked your drafts, tap 'Erase' to permanently delete them from your account.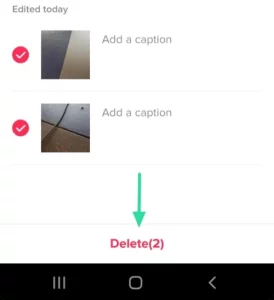 Note: It is important to note that once you delete a draft, there is no way to recover it. Some third-party apps claim to be able to do so. However, using such apps is not recommended.
How To Easily Remove TikTok Drafts Without Saving?
If you don't want to keep the drafts you made on TikTok, there are simpler ways to delete drafts you may have saved within the video-sharing app. You can remove videos from your TikTok drafts folder using the techniques listed below.
Sign Out Of Your TikTok Account
If you don't want to keep the videos you've saved as drafts on your phone, the simplest method to delete them is to sign out of your account. This method may be used if you want to keep using TikTok on your phone but don't want to remove it completely.
Note: This method works on both iOS and Android.
1 – Launch the TikTok app and go to the Me tab in the bottom right corner of your screen to sign out of your TikTok account and delete the videos from your device.
2 – From the Me screen, tap on the three dots icon in the top right corner.
3 – When the Settings and privacy screen appears, scroll down to the bottom of the screen and select log out.
4 – You will be asked to confirm your activity. In the resulting dialogue box, select Confirm.
You will be logged out of your TikTok account on your phone, and all your TikTok drafts will also be removed. In addition, the video you saved is no longer recoverable.
Remove TikTok App From Your Phone
If you don't want to use TikTok on your Android or iOS device again, you may remove your TikTok drafts by uninstalling the TikTok app. Follow these instructions to uninstall and delete the TikTok app from your phone:
On iPhone 
1 – To uninstall TikTok from iOS, find the TikTok app in the App Library on your Home Screen, tap, and hold on to the app icon. Choose Delete App from the list of options when an overflow menu opens.
2 – You'll be prompted to confirm your selection in the next prompt. Tap the Delete button here.
TikTok will be uninstalled from your iPhone, and all your TikTok drafts from your iOS device.
On Android 
1 – To uninstall TikTok from Android, locate the app in the App drawer and long-press on the app icon. Choose the I icon or the App info option when a menu opens.
2 – On the App Info screen, pick Uninstall.
3 – In the resulting prompt, choose Ok.
If you uninstall the TikTok app directly, your drafts folder will also be removed. If, after clicking 'Ok,' you get the warning "Keep some> MB of app data" inside the Uninstall prompt, make sure this box is ticked to remove the TikTok app and all of its data, including the drafts folder. Once that's done, the drafts will no longer be displayed the next time you install TikTok and sign in to your account.
Clear TikTok Data From Android
This method can be used instead of signing out of your TikTok account. You are manually deleting your TikTok account without signing out of the app.
1 – Locate the TikTok app in the App drawer and long-press on its app icon to begin. Choose the I icon or the App info option when a menu opens.
2 – From the App details screen, choose storage and cache.
3 – On the following screen, select Clear storage.
Android will delete all TikTok app data, including drafts, and log you out of your account. However, you may log into your account if you want to continue using TikTok.
My TikTok Drafts Disappeared. Why?
The videos you store as drafts in TikTok will normally stay active if you keep your TikTok account linked to your device. However, unlike the videos, you upload to your profile, the drafts you keep take up space on your iOS or Android phone rather than the cloud.
Because they are saved locally, these files are treated the same as any other app data on your smartphone. If the TikTok app is removed or offloaded for any reason, all drafts in your account will fail to load. In such cases, there is no way to remove previously saved drafts, and any videos saved for future publication are lost forever. When keeping videos in TikTok drafts, it's usually better to select the 'Save to device' option to avoid such complications.
How Long Will Drafts Remain On My Account?
Drafts will remain on your TikTok account indefinitely. However, after you post them, they will no longer appear as drafts. Similarly, after you download drafts to your phone using the method described above, they will remain on your phone until you actively delete them. It should be noted, however, that if you uninstall the TikTok app, you will lose all of your saved drafts. The simplest method to avoid this is to save your drafts on local storage. That way, you'll be certain to have a copy.
Conclusion:
We hope this article was useful. Remember that you may always upload saved drafts directly from your gallery. If you have any questions, please leave them in the comments section below.