Most of us like Karaoke because it lets us sing songs and show off our inner singers. Karaoke apps are now available for both Android and iPhone. Karaoke software is what most people want for their PCs, though.
If you want a karaoke party at home, you need good Karaoke software because you can add an exterior microphone and a good sound system to a PC. So here are some great pieces of karaoke software you can run on your PC. Most of this free software will cost you a little money.
Top Best Free Karaoke Software You Can Use in 2023
1. KaraFun Player
KaraFun Player is only open for Windows users, but it is straightforward to use on Windows, which makes it one of the most popular apps on this list. It is a free application. To upgrade the application and add some paid features, you can pay $9.99.
The user experience of the KaraFun Player is effortless. You'll know right away what to do when you open the app. It sounds like the songs were made in a studio. You will also have the option to save it as a favorite.
2. PC DJ Karaoki
PC The best karaoke application to use at a party to sing with friends is DJ Karaoke. The application is free, but it only works with Windows.
The design is simple and easy to use. It also lets you add a second screen that shows the lyrics. Also, helpful tools like drag-and-drop loading and other features will make your life easier. It is possible to connect to the cloud, and you can also change the colors.
3. One karaoke
One Karaoke is only for Windows PCs and can be bought from the Windows Store. Karaoke supports major formats like WMA, MP3, WMV, and others. This is one of its best features.
It's important to note that one of the app's bonus features lets you make films of your performances. The app also works with social media, so you can share your songs, follow people, get more fans, and so on.
4. Walaoke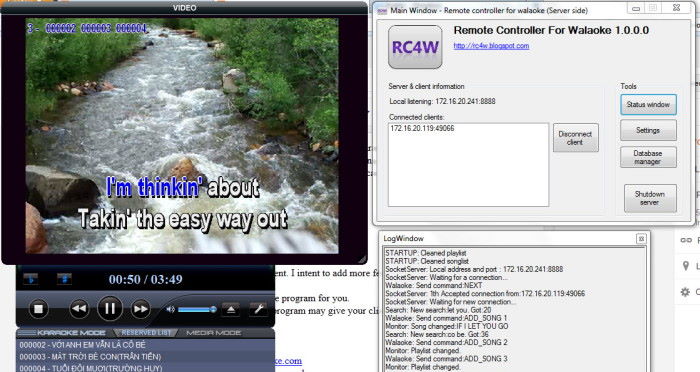 Waloke is a free Windows application with all of Karaoke's most essential features. It supports all of the popular types. You can also save numbers and stations and see the lyrics.
It is a straightforward application with only the most essential features you can use to sing songs. This makes it an excellent app for Karaoke.
5. OkeOke
OkeOke.net has all of the most essential features of a Karaoke application, like saving data on a local drive, finding by phrase, looking up songs, having the most common file types, and much more.
You can register and share your songs with OkeOke. The music can also be saved on your computer.
6. Siglos Karaoke Player
For Windows users, Karaoke Player is a simple Karaoke application that can quickly turn your computer into a Karaoke. Even though the display isn't very pretty, you can still use it.
Still, the app works very well. You only need to press a few keys to run the app on your computer. You can sing along and record clear audio if you download the track from a good source.
7. TunePrompter
The only app on this list that works on both Windows and Mac is Tuneprompter. It has an easy-to-use design and lets you create your karaoke songs. You can make and share karaoke movies using the app on your Apple devices. You can also try to find song lyrics.
8. Karaoke 5
For new users, Karaoke 5 is an excellent Karaoke application because it has both simple and expert features. Also, it supports all the primary audio and video files, like MP3, which is helpful if your music is in a video file.
You can also use the two screens to show lyrics while your live act is aired. You can also use a mix of choices. Even though the application is free, you can upgrade to get paid features for $83 by paying the extra money.
9. Kara Fun Player
Kara Player of FunA well-known piece of karaoke software called Kara Fun Player can turn your Mac into a karaoke player. It has more than 35,000 karaoke songs, some of which are new and some of which are old but still famous.
By altering a song's level, speed, and pitch and adding various enjoyable sound effects, users can make their karaoke events to their liking. You can see the lyrics on a second screen, like a computer monitor or TV.
Kara Fun Player is karaoke software that is easy to use and can be customized to suit the needs of singers of all skill levels.
10. Kanto Karaoke
Karaoke KantoWhen it comes to free karaoke software for PC and Mac, Kanto Karaoke is hard to beat. It lets you listen to many different types and languages of songs.
Karaoke can meet their needs by letting them add their songs and make mixes. The software can read and play music and video files in different forms, like MP3, MP4, and AVI.
Kanto Karaoke lets you change the pitch and speed of the music, add echo and feedback effects, and record and save your performances. It's karaoke software that's easy for both newbies and pros.
From Editor's Desk
Singing Karaoke is a good habit to practice. Try these free Karaoke software programs for Windows and Mac computers if you like to sing along, and let us know which works best on your computer.