We've all experienced problems with Windows 10 updates. This is most likely the most prevalent bug that Windows 10 users face occasionally. Each of those annoying issues is accompanied by an identifying code to make things easier. The error code 0x80080008 is one of those that are common and recurrent. This error code is prompted when your update is either stuck, or some of the update files are not correctly downloaded and installed. But don't worry. We've a couple of workarounds that should fix your problem if it troubles you.
Variations Of Windows Update Error 0x80080008
The update error 0x80080008 prevents you from downloading the latest update. In that vein, here are some more issues that users have reported:
0x80080008 Server 2016
Several Windows Server 2016 users reported this issue. Although our solutions are mostly for Windows 10, some should also apply to Windows Server.
Windows Update Failed
Well, this is a Windows Update error, and updates will stop working as a result. Nevertheless, you should be able to fix the problem by deactivating your antivirus software or manually downloading the update.
Easy Steps To Fix Windows Update Error 0x80080008
Perform SFC And DISM Scans

 
If you constantly receive update error 0x80080008 on your PC, the issue might be with your installation. For example, a faulty or corrupted Windows installation might cause this error. Nevertheless, you can easily fix the problem by running an SFC scan. Follow these procedures to do this:
1 – Right-click and choose Start.
2 – Select Command Prompt (Admin).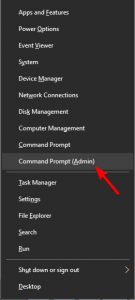 3 – In the command line, type sfc/scannow.

4 – The process will look for and restore damaged files.
This tool proved useful in a variety of scenarios. However, if the corrupted files are not the source of the problem, you may wish to experiment with different workarounds. If an SFC scan does not fix the problem, or if you cannot run an SFC scan, the next step is to run a DISM scan. Follow these procedures to do this:
1 – Launch Command Prompt as administrator. 
2 – On the command line, type the following command:
DISM.exe /Online /Cleanup-image /Restorehealth

3 – If the DISM cannot locate files online, try using your installation USB or DVD. Insert media and enter the command:
DISM.exe /Online /Cleanup-Image /RestoreHealth /Source:C:RepairSourceWindows /LimitAccess
4 – Replace the "C:RepairSourceWindows" location with the path of your DVD or USB.
Check to see whether the issue has been resolved after the scan. For example, if you could not run the SFC scan earlier, do it again after the DISM scan to see if it solves the issue.
Restart Windows Update Components

 
Users report that Update error 0x80080008 might occur due to Windows Update components. To fix the problem, you must restart Windows Update components. You may do this manually, but it can be time-consuming; therefore, Command Prompt is typically preferable. To use Command Prompt to reset Windows Update components, do the following:
1 – Run Command Prompt as an administrator. 
2 – Run the following commands now:
net stop wuauserv

net stop cryptSvc

net stop bits

net stop msiserver

ren C:WindowsSoftwareDistribution SoftwareDistribution.old

ren C:WindowsSystem32catroot2 Catroot2.old

net start wuauserv

net start cryptSvc

net start bits

net start msiserver
Well, after running these commands, the issue should be resolved, and you should be able to download the updates again. However, manually running these commands might be time-consuming. So instead, you may develop a Windows Updates reset script and run it to automatically reset the relevant services if you wish to reset Windows Update components.
Check Antivirus
According to users, Update error 0x80080008 might happen due to antivirus problems. Therefore, it is advised that you disable some antivirus functions and see if it helps to resolve this issue. If it doesn't work, you may have to disable your antivirus fully before running the update. If the issue persists, your next step should be to uninstall your antivirus entirely.
Even if you uninstall your antivirus software, your computer should still be secured by Windows Defender, so you won't have to worry about your security. However, if deleting the antivirus resolves your problem, it may be time to explore switching to a new antivirus solution. Several fantastic options are available, but the antivirus software for Windows 10 most suited to your PC will not cause any problems.
Download The Update Manually
If you continue to receive update error 0x80080008, you may be able to circumvent it by manually downloading and applying the update. This is a reasonably straightforward process that may be accomplished by following these steps:
1 – Find the KB number of the update you're attempting to download. You may accomplish this via the Windows Update section of Windows or by visiting the Windows Update History website.
2 – Once you've determined the KB number of the update you find attempting to download, go to the Microsoft Update Catalog website. You only need to input the update number in the search field now.
3 – A list of results will be displayed. Find the update corresponding to your system architecture and click the Download button to download it.

4 – After downloading the update, run the setup file to install it.
After installing the update, your system will be updated to the latest versions, and the problem will be resolved. Keep in mind that this method will not fix the underlying issue; rather, it will allow you to download and install the update to circumvent the problem manually.
Restart BITS Services
Background Intelligent Transfer Service (BITS) is required for Updates. It may crash and stop occasionally working due to various factors. You need to restart the service and check if the Update protocol improves.
1 – Press the Windows key + R. Enter services.msc in the search type and click Enter.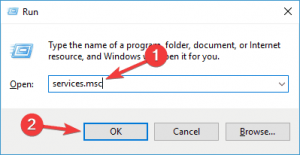 2 – Locate and double-click Background Intelligent Transfer Service (BITS) to view its properties.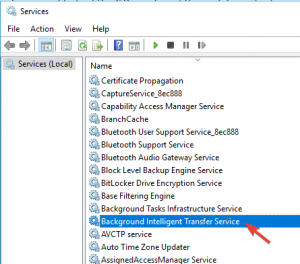 3 – If the service isn't already running, click the Start button.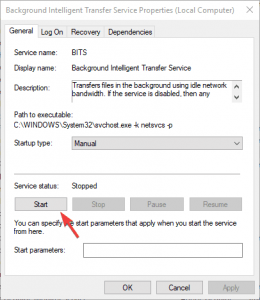 4 – Select the Recovery tab and ensure that the first and second failures are set to Restart service.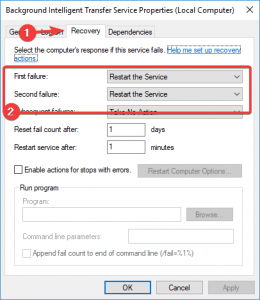 5 – Verify your selection and check for updates.
For some users, this is sufficient. However, if the error still appears, go to the next solution.
Boot In A Safe Boot Mode
Background programs and associated activities can sometimes slow down or prevent an update. So, to prevent a potential conflict, consider modifying your services and starting.
1 – Enter MSConfig by pressing Windows Key + R. Now, click OK or press Enter.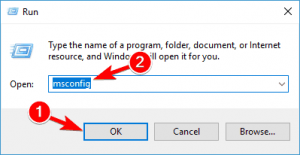 2 – Select the Services tab and check the box labeled Hide all Microsoft services. Then click Disable All, followed by Apply.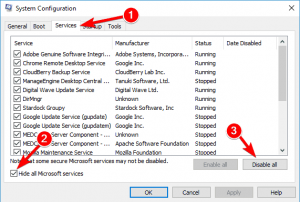 3 – Navigate to the Startup tab and select Open Task Manager.
4 – Disable each Startup program separately.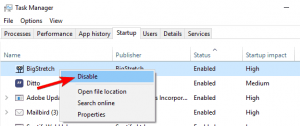 5 – Restart your computer and attempt updating again.
Following this workaround, you should be able to find and download available updates.
Perform An In-place Upgrade
According to users, performing an in-place upgrade is the only method to fix this problem. In case you're familiar, an in-place update forces Windows 10 to install the latest version while keeping all of your files and apps intact. You must do the following to perform an in-place upgrade:
1 – Download and run Media Creation Tool.
2 – Click Next after selecting Upgrade this PC now.
3 – Wait for the setup to prepare the required files.
4 – Select Download and install updates (recommended) and then click Next.
5 – Sit back and wait for the updates to download.
6 – Follow the on-screen instructions until you reach the Ready to install screen. Click on Change what to keep. 
7 – Click Next after selecting Keep personal files and apps.
8 – To complete the installation, follow the instructions on the screen.
When the procedure is complete, your Windows will be updated to the latest versions, and the problem should be resolved permanently.
FAQs – 0x80080008
What Exactly Is Error 0x80080008?
Users are unable to check for new updates because of the 0x80080008 error. However, it frequently occurs due to a previously unsuccessful download or a cache problem and may be fixed utilizing this guide.
How To Easily Fix A Windows 10 Update Error?
Make sure you've at least 20% of your overall disk space available. Then, to save time, you run the update a few times after updating your drivers with an automatic tool. Lastly, restart your computer and check for errors on the hard disk.
Why Is The Windows 10 Update Failing To Install?
There might be a conflict with another temporary or system file. Perhaps there isn't enough storage space to download the updates. Check your activation status and, if necessary, repair Windows Activation.
Also, Take A Look At:
Conclusion:
Remember that the workarounds described in this post can be used for various errors, not only the one we discussed today. If you've any questions or recommendations, please leave them in the comments area below.