Change Instagram Feed: Instagram has gradually become one of the world's most popular image-sharing platforms. You may even share videos, shorts, and reels while benefiting from their enhanced algorithm. In addition, Instagram just added the ability to have greater control over your feed, which previously existed but was removed in 2016. So, how can this new feature customize your home feed? Let us investigate!
How's The Instagram Feed Curated?
Instagram now curates your feed depending on your platform activity. For example, when curating your home feed, the algorithm considers your activity, likes, dislikes, followers, people you follow, how much time you spend on a post, people your followers follow, and much more.
This meticulous curation enables the algorithm to show you what is best for you while guaranteeing that Instagram can serve relevant advertising. Apart from privacy issues, there are other negatives to automatic curation. The inability to view posts chronologically or merely view posts from a certain group of people. Thankfully, that is about to change; read on to learn more.
Is It Possible To Change Your Instagram Feed?
Yes, you may now change your Instagram home feed. Instagram recently announced the feature on Twitter with a video detailing the new options. The ability to change your feed appears to be in the early stages and is currently only offered to a select number of users. However, Instagram appears to be contemplating a slow rollout in the coming months, but a release date has yet to be announced.
How To Easily Change Your Instagram Feed?
You can now use Instagram's latest features in conjunction with existing features to easily customize your home feed in various ways. Select one of the options below that meets your needs and criteria.
Sort Posts Chronologically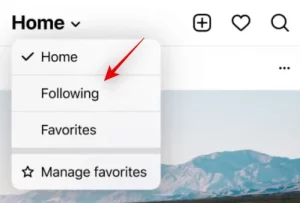 If you have the most recent Instagram alpha, select the drop-down arrow in the top left corner of the screen and choose 'Following.' This will show all posts from people you follow in chronological order.
Sort Posts From Special People You Follow
For this to work, you must have a favorites list. Then, if you still need to do so, go to a user's profile and designate them as favorites. When you do this, a Pin icon will appear beside their profile, which you may use to identify your favorites. These accounts' posts will likewise be marked with the same icon.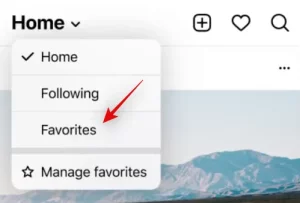 Now that you've created a favorites list, navigate to your home page, tap the drop-down menu in the top left corner, and choose 'Favorites.' Your feed will now be organized chronologically to show only posts from your favorites.
Remove Irrelevant Posts By Unfollowing Users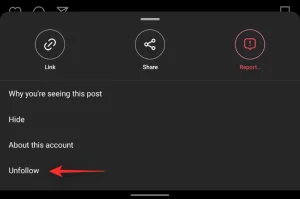 If you want to continue curating your feed, we recommend unfollowing users who are no longer relevant to you. Well, we all follow new people on Instagram until they become buried deep in our following list and are only discovered years later. So it's time to clean up your account and unfollow users who are no longer relevant to you. This will assist curate your feed and, more crucially, ensure that you care about the relevant content.
Improve Instagram Suggestions By Providing Feedback
When using the default home feed, you may submit feedback to help the AI curate your feed better. Unfollowing, reporting, and hiding posts from your feed are all indicators for the algorithm that are taken into account the next time you are offered comparable content. Doing so regularly will help train the AI to provide more relevant content.
1 – On a relevant post, tap the '3-dot' menu icon and select your chosen option.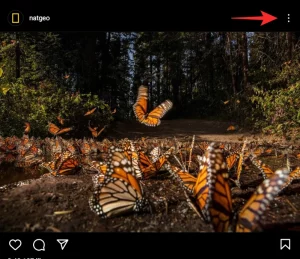 2 – When reporting a post, ensure you specify the post and do not misreport it. If you want to view fewer posts, click 'Hide.'
In addition to the options listed below, you may click 'Why you're seeing this post' to learn more about what prompted the AI to show you this post.
Turn On Notifications For Important Accounts 
This is another option to curate your home feed and ensure up to date with the newest information from accounts you care about. In addition, you may enable notifications for certain accounts so that you are notified whenever they publish new content. To turn notifications for an account, use the guide below to guide you through the procedure.
1 – Launch Instagram and go to the relevant account. Now, select the bell icon in the top right corner of the screen.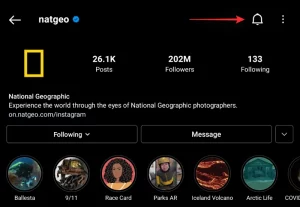 2 – Now, turn the notifications you want to receive for specific content posted by the chosen account. You have the following options available to you.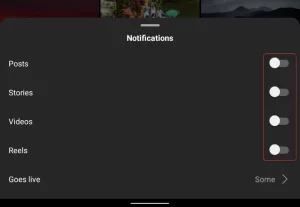 Posts –

 You will receive notifications anytime the account publishes new posts.

Stories –

 Instagram will notify you whenever the account posts a new story.

Videos –

 You will be notified anytime the account publishes a new video.

Reels –

 This option will notify you whenever the account publishes a new Reel.

Goes Live –

 Use this choice to manage how you receive notifications regarding the specified account's 'Instagram Live' sessions.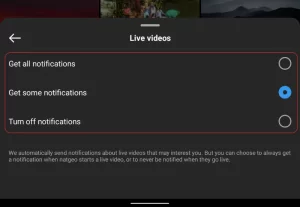 Get All Notifications –

 You will receive notifications for each live session, regardless of its content, topic, or subject.

Get Some Notifications –

 Instagram's algorithm will send notifications for live sessions hosted by the Instagram account where the content is relevant to you. This might include the things you follow, the hashtags you use the most, the things you post about, and more.

Turn Off Notifications –

 You may use this option to turn all live session notifications for the account, independent of their content.
And there you have it! You have now enabled notifications for the specified account, and you will be notified whenever new content that interests you is added.
Reset Your Explore Feed
Aside from reels and your home feed, you can customize and reset your Instagram Explore feed. This is a little-known truth, but you can always clear your search and explore history within the app. This will allow you to reset your explore feed and receive new ideas simultaneously. Follow the guides below to easily clear your search history and reset the Explore page.
Reset Explore Page 
1 – Launch the Instagram app and tap on your profile image in the bottom right corner of your screen.
2 – Touch the menu symbol in the top right corner of the screen and select 'Settings.'
3 – Tap and select 'Security.'
4 – At the bottom, tap on 'Search history.'
5 – Select 'Clear all' to remove all of your searches. You may also remove your searches individually by tapping the 'X' beside them.
Exit and re-open the Instagram app on your smartphone when finished. The explore page should have been reset by now.
Curate Explore Page 
If you want to avoid clearing your search history and resetting the Explore page, you may curate it instead. You may do this by deleting particular undesired searches from your history and notifying Instagram of the posts you don't want to view. Follow the steps in the guide below to get started.
1 – Launch the Instagram app and tap on your profile image.
2 – In the top right corner, tap the menu icon and select 'Settings.'
3 – Select' Security.'
4 – Select' Search history.'
5 – Tap the 'X' next to a search phrase you want to remove from this list. This will have an impact on your Explore page as well as how Instagram offers new posts to you.
6 – When finished, tap the Explore page symbol at the bottom of the screen. Look for a post that isn't relevant to you and tap on it when you find it.
7 – In the top right corner, tap the '3-dot' menu icon.
8 – Select 'Not interested.'
And there you have it! Repeat the preceding steps to notify Instagram of posts unrelated to you, and the algorithm should curate your Explore page accordingly.
Manage Story And Reel Notifications 
Notifications are an excellent way to keep up with your home feed, but if you are connected to someone who posts frequently, this might get bothersome. Within Instagram, you can quickly manage your notifications and even turn them on for users who are essential to you. To assist you with the procedure, follow the relevant guide below.
Turn On Notifications 
1 – Launch Instagram and go to a profile for whom you want to receive notifications. In the top right corner, tap the bell icon.
Turn on the notifications you want to receive from the specific individual. For example, you've the following options available to you.
Posts. 

Stories. 

Videos. 

Reels. 

Live Videos. 
Once enabled, you can sit back and relax since you will be notified whenever the user posts something.
Mute/Turn Off Notifications 
You may use the preceding guide to turn off notifications by just tapping on the toggle again. But did you know that you can also mute users on Instagram? This will keep you from seeing their most recent posts and reels if you want to take a vacation from someone. Follow the steps below to assist you with the process.
1 – Launch Instagram and go to an account you want to mute; tap on 'Following.'
Note: You can't mute users that you do not follow.
2 – Select' Mute.'
Now select the content you want to mute from the relevant account. You have a choice between the two options listed below. Toggle the required toggle on or off by tapping on it.
You may close and re-open the Instagram app for the modifications to take effect, and you should now no longer see posts and stories from the affected account in your home feed.
FAQs: Change Instagram Feed

Instagram is continually changing its user interface and renaming features, which makes it difficult for everyone. Here are some frequently asked questions regarding Instagram and its modifications that should help you get up to speed fast.
How To Easily Remove Favorites From Instagram?
Currently, removing favorites is the same as adding them. Go to the relevant profile and click the un-favorite button at the top. After completing them, they will be deleted from your favorites list, and you'll no longer receive their posts in your 'Favorites' feed.
When Will I Obtain The New Sorting Feature Of Instagram?
As of writing this post, we don't know; Instagram has been tight-lipped regarding the rollout date; however, user reports indicate that it should happen in the next months. The feature does not appear to be region-locked since using a VPN has no effect. Instagram's newest alpha appears to contain the feature, although random users may or may not use it. According to this, the feature is still in its early stages and might take at least a few weeks to reach a final stable release.
Is It Possible To Restrict Someone Without Blocking Them?
Yes, Instagram includes a feature that restricts some accounts you do not want to block. To restrict someone on Instagram, follow the steps outlined below.
1 – Launch Instagram and navigate to the account you want to restrict. Once there, tap on 'Following.'
2 – Select the 'Restrict' button.
3 – Tap 'Restrict account' once again to confirm your choice.
And there you have it! The chosen account will now be limited to Instagram. Their contacts with you and the content you post on the platform will now be restricted.
Why Do I View Old Posts At The Top Of My Instagram Feed?
Well, this is because you are still using the default sorting algorithm for the home feed, which was previously the sole choice. Instagram leverages your online and platform behavior to show posts that the algorithm believes are more relevant to you. This is why older posts from accounts you interact with appear at the top of the home feed when using the default sorting style. You may change this and organize your posts chronologically using the top guide.
Is It Possible To Remove Certain Users From Appearing In My Feed?
Yes, you may restrict users' posts from appearing in your feed. You may also block users if you want to remove them entirely from your experience. You may also make a customized list of favorites, so you don't have to view the concerned user's content. Use one of these strategies to prevent someone from appearing on your home feed. Please see the guides at the top of this post if you want assistance.
Is It Possible To Hide Posts From My Feed?
You may quickly hide posts from your feed. Tap the three-dot menu icon in the post's top right corner and select 'Hide.' The post will then be removed from your feed, and you will not be able to see it again. You may change this by tapping 'Undo,' or you can take more action on the content by reporting it. If you want to avoid future communication with the concerned account, Instagram will also provide shortcuts to assist you in unfollowing and blocking the account.
How Is Hiding Post Different From Reporting?
Hide a post to remove it from your home feed. It might be anything delicate or personal that you don't want to see when exploring Instagram. Hiding is a personal choice that does not result in the account/post being reported to Instagram. On the other hand, reporting is the process of drawing Instagram's notice to posts that violate the platform's rules and privacy. This helps to improve the platform while also allowing you to remove harmful content users provide. Reporting will not hide the post from your feed; you may see it again on the Explore page.
Conclusion: Change Instagram Feed

This post has made it easier for you to customize your Instagram feed. If you have any further queries about change Instagram feed, please leave them in the comments area below.