Delete Messages In GroupMe: Message deletion has always been an important feature of any messaging app. Whether you're attempting to clear up your inbox or hide crucial messages from prying eyes, learning how to delete messages—and whole threads—is essential regardless of the app you use to communicate. Many messaging apps have added the option to delete messages from chat threads for all viewers in recent years. Other people will notice a notification that a message has been deleted, but the message's content will be unavailable. Is this the case with GroupMe? This tutorial will teach you all you need to know about deleting messages on GroupMe.
Is It Possible To Delete Messages In GroupMe?
Have you ever texted something improper to a GroupMe contact by mistake? We regret to inform you that you cannot delete any messages or photos you have already sent. GroupMe messages function similarly to ordinary SMS messages. There's nothing you can do once they're out there. You can only hide the message from the device you're messaging, which may address the problem on your end, at least temporarily.
How To Easily Hide Messages In GroupMe On Android?
You can't erase a GroupMe message from your Android phone, but you may hide it. This is how.
1 – Open GroupMe on your smartphone and find the chat that includes the messages you want to hide.
2 – Hold down the message you wish to hide.
3 – When the menu displays, select Hide.
That's all. And if you change your mind about hiding the message, you can easily unhide it by doing the following:
1 – Tap the profile image of a person you're conversing with. Choose the group avatar if you're in a group chat.
2 – Go to Settings and then select Unhide Hidden Messages.
How To Easily Hide Messages In GroupMe On iOS?
If you've an iOS device, you'll need to follow similar instructions. However, it may change significantly on your iPad. The Settings button will appear when you open a group chat on certain devices. The remaining procedures are the same as they are on Android phones.
You cannot hide or unhide messages if you use a web browser to log into your GroupMe account. The same is true for Android phones; download the app and hide the messages from there. Logging out and back in is another option to unhide messages on your device, whether on Android or iOS. Then, when you open a chat, you'll see your previous messages.
How To Easily Hide Messages In GroupMe On PC?
Follow the instructions below to hide your messages on a computer:
1 – Open GroupMe (the app, not the web version).
2 – Click the chat that contains the required message.
3 – From the menu, right-click the message and select Hide Message.
If you wish to unhide the message, follow these steps:
1 – Click on the profile image of the group or the profile image of the person you're contacting.
2 – Go to Settings and check the Unhide Hidden Messages box.
How To Easily Delete Messages In GroupMe For Everyone?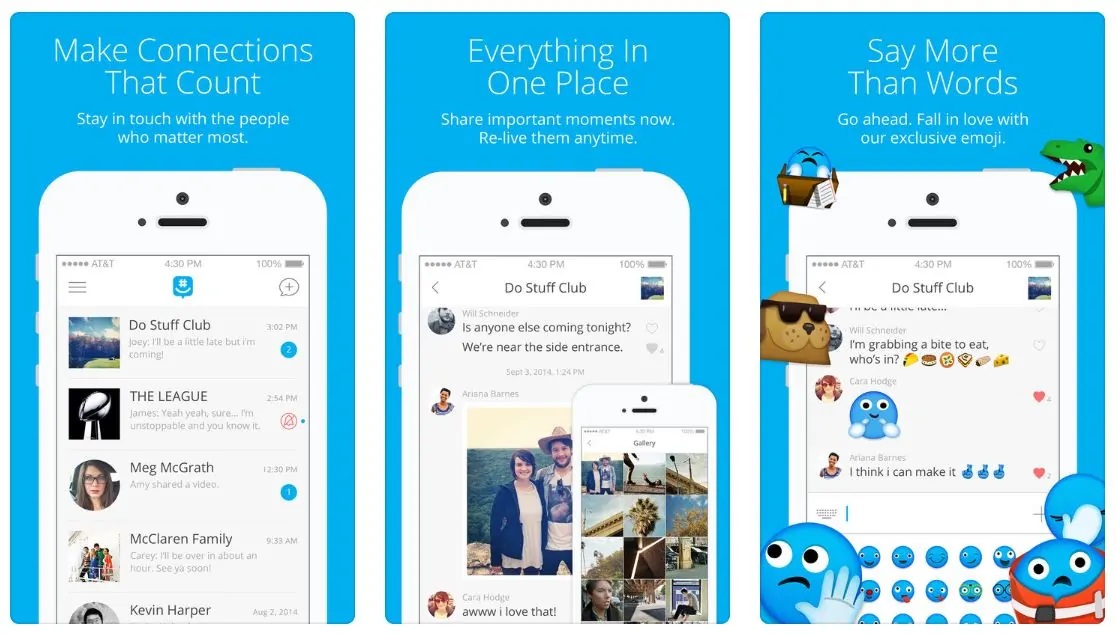 As previously stated, you cannot delete messages from individual or group chats on GroupMe. This option has never existed. The greatest thing you can do is hide your texts on your device. Other people in the conversation would still be able to see them.
How To Easily Delete Messages In GroupMe Permanently?
You may delete your conversation (including all of your messages) by erasing your chat history. This action, however, only impacts your device. Other participants in the conversation will still have access to the messages and the whole chat history. If you delete the chat history from your smartphone, tablet, or PC, you won't be able to recover it, so keep that in mind before making a decision. To clear the chat history, erase the following steps:
1 – Launch the GroupMe app and navigate to the selected chat.
2 – Right-click on the chat avatar and select Settings from the menu.
3 – Click Clear Chat History, and afterward, confirm your choice by clicking Clear again in the window that appears.
How To Easily Delete Messages In A GroupMe Group Chat?
You can't delete messages in group chats, either. However, if you started the conversation, there is something you can do. You will eliminate chat messages and photos by terminating the group. This is how you end a group chat.
1 – Open GroupMe on your device.
2 – Click on the selected group, then pick its avatar.
3 – Select Settings, and then, at the bottom, click End Group.
When you end the group, the information and messages associated with it are no longer retrievable.
FAQs:
If you've any further queries regarding deleting messages on GroupMe, the information below may be helpful.
Why Won't GroupMe Delete Messages?
You may not appreciate that GroupMe does not allow you to delete chats or messages, yet it serves a function. Other messaging apps, for example, are less safe for underage children because you can easily erase a text from a chat. Assume a youngster is being bullied over messages, and you still need to take a screenshot of the conversation. You have no proof of the abuse in that case. Users cannot remove sent messages from a person or group chats in GroupMe. This implies that parents have more control over what their kids do online and can respond to harassment in real cases.
Conclusion:
What has been sent with GroupMe messages? You cannot delete your GroupMe messages, so think again before clicking the Send button. You can clear your chat history or hide the messages, but that's not the same. The only method to eliminate a chat is to end a group (but only one you've formed), which also deletes the whole conversation. Whatever you decide, deleting a message isn't feasible on this app before you start using it. Have you been able to hide your GroupMe messages? Please share your thoughts in the comments box below.