Envelope Printing software will help you a lot if you need to print addresses on envelopes often. If someone needs envelope printing software, it will be easy to mail letters or notes.
On each envelope, the sender's name and address must be handwritten. But envelope printers are great software that can save time, money, and energy and make your work easier.
The Envelope Printing software automatically saves the address and other details, so you don't have to type the same address again. It offers several text-changing features further to modify a basic envelope into an eye-catching one.
If you often send mail the old-fashioned way, this list of the best free envelope printing software will help you.
Best Free Envelope Printing Software for Windows and Mac in 2023
Dataware Envelop Printer
Tweaking Envelope Printer
Print Envelopes-R K Computers
Envelope Printer
goEnvelope
LibreOffice Writer
OpenOffice Writer
MS Office
1. Dataware Envelop Printer
It  is a quick and easy-to-use software that lets you print custom envelopes for personal and business use.
You'll get templates for different envelopes that have already been made. There are different areas for names, addresses, etc.; all you have to do to print them on the envelope is fill in the blanks.
One thing that makes the Dataware Envelope Printer stand out is that users can add pictures from the software's large gallery. You can also choose between six different sizes based on what you need.
Price: Free and Paid
2. Tweaking Envelope Printer
Change the Printer for EnvelopesIt is a great envelope printer with many useful features. Tweaking.com lets users create, modify, and print envelopes for free. Around the sides of an envelope are the parts that make it look good.
The app also has an option that lets you print many envelopes or business cards at once. There is also a sample option that lets you see the final result before printing.
Price: Free
3. Print Envelopes-R K Computer
Print Envelopes-R K on a ComputerThis is another software for printing envelopes that can also be used to design letter covers. Some of the software's special features let you change the envelope's size, style, color, and other details. You can put pictures on your envelopes if you use Print Envelopes.
The basic features of R K Computer's software for printing envelopes can be used for free. But some of the more powerful features cost money to use.
Price: Free
4. Envelope Printer
Printer for EnvelopeEnvelope Printer is helpful software that is easy to use and lets you print legal envelopes quickly from a computer or Chrome tablet.
The main thing that users will get is the bulk printing option, which makes copies of many envelopes with just one click. It also has a built-in address book that uses a ZIP code to find different addresses.
The envelope printer software comes in both free and paid forms. There are some extra parts in the paid version, like changing the font style and adding pictures, etc.
Price: Free and Paid
5. LibreOffice Writer
The LibreOfficeThe next thing on our list is powerful software for printing envelopes that includes several templates. You can also use LibreOffice to design an envelope template you can use in the future.
The software also has an auto-correction option that prevents you from typing the same address and other personal details over and over again.
Another thing that makes LibreOffice stand out is that it has auto-correct. This tool changes any spelling problems in your text right away. This great software is also free to download and use.
Price: Free
6. goEnvelope
goEnvelopeIf you want a web-based envelope printer that you can use without putting it on your computer, goEnvelope is a great option.
It has an easy-to-use layout with different places to fill out envelopes. Users only need to enter their name, address, and other details to get it on their envelope.
As a PDF, you can see what happens when you use an envelope. This means that else can be put as soon as possible. However, goEnvelope does not allow you to import templates from other sources or modify the ones that are already there.
Price: Free
7. OpenOffice Writer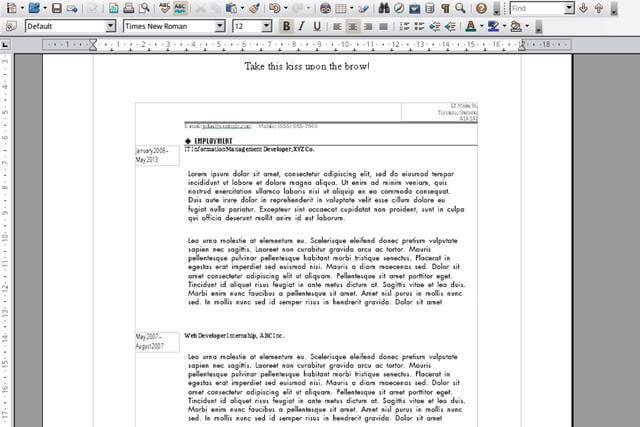 OpenOffice Writer is a free word processor that lets you design and print envelopes. Due to its user-friendly design, it is one of the most popular envelope printing software among users.
With the software's different features, you can change the text style, font color, etc., and print on the envelope differently.
Also, if you have little time to design your envelope, OpenOffice has templates you can use.
Price: Free
8. MS Office
MS OfficeTo add to our list of the best software for printing envelopes, we couldn't find a better option than MS Office. It's a set of software that can be used for many different things. It comes with thousands of forms for envelopes that are already made.
You will also have several options for changing the text on your envelope and giving it a unique design.
At first, Microsoft software is free to use. After the trial period, you can sign up for a delivery membership.
Price- Free and Paid