Fun Run 3 takes the classic gameplay of racing games to a whole new level and gives it a new twist. Race against other runners and try to mess up their race while avoiding the obstacles in your way. Fun Run 3 is both a platform game and a race game. If you keep getting new things, you'll make more progress.
Even though it is something new, many players have said that they are having trouble with the game. Yes, they are upset that they can't log into their Fun Run 3 account after the last patch update. So, we're here to help you figure out how to get back into your Fun Run 3 account. Let's start with them, then.
Methods to Get Back Your Fun Run 3 Account
Before we go any further, it's important to know that you might not be able to get into your account because of problems on both the Server-side and the Client-side. Fun Run 3's developers will put out a patch to release problems with the Server Side. The developers have not said when they will release the patch, and it is hard to fix problems on the client side.
Fix 1: Get Your Account Back By Logging Back In
Logging in to your Fun Run 3 account was suggested by many players who solved the problem. You can do this by going to your account settings in the game. To get your account back, you must first get your account info. Follow the steps below to get your account back.
Step 1: Start Fun Run 3 and go to its Settings menu.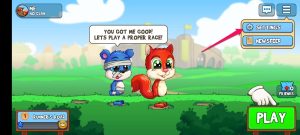 2 Step: After that, click on "Account."
Step 3. Click on the "Recover Account" button and provide them with the email address associated with your Fun Run 3.

Step 4: After putting in your email address, tap "Recover Account."

Step 5: You'll get an email with instructions on how to change your password and get back into your account. Read the email and follow the instructions in the message.
Once you have found your account information, open the game again and try to log back into your account. If you can log back in, that's a good sign. If not, keep reading.
Fix 2: Log in to Your Account Via Another Device
The problem could be with the device you are using to log in to your old Fun Run account.
You can try to log in through another device or after deleting the game. You'll need your account information to do this. Getting your account information would have been easy if you had followed the steps above. So, let's move on and get into your account.
To do this, you will need to log in with Game Center or Play Services.
Make sure you're signed in to your Game Center/Play Services account and link it to your Fun Run Arena account.
Open the game for the first time and log back in.

Fix 3: Link Your Account With Facebook
If you link your Fun Run 3 account with Facebook, you can play on another device with the same account data. To do so, Go into the settings menu, and scroll down until you find Account Settings; under the Facebook tab, click on the "LINK" option. You can also connect your account to Facebook by swiping the left arrow on the home screen. You'll see a button that lets you link your Facebook account. Click on it to connect your account.
If you've any thoughts on How to Get my Fun Run 3 Account Back?, then feel free to drop in below comment box.