Download & Install TuTuBox On iOS: TuTuBox is a TuTuApp clone that offers an alternative to app installation choices with certificates. App Valley, like TuTuApp, provides a similar experience. It is a fantastic third-party app installer for iOS that lets you download and install your favorite customized apps for free. In addition, it lets you download customized versions of apps that are not accessible on the App Store. TuTuBox is a third-party installer that includes a good selection of apps and games and other third-party app installers. It is compatible with iOS 14 and iOS 15. Other modified shops and most ++ apps and games may be downloaded for free.
Some TuTuBox Alternatives
IOSGods App Store is a modified store for your iPhone and iPad that does not require a jailbreak or a PC. Apple normally revokes the free store. IOSGods is a free app store profile for iOS devices as well. The store provides several paid apps for free, as well as modified or hacked versions of apps and games for your iPhone and iPad devices.
PandaHelper is another reliable site for downloading third-party apps for Apple or iOS. The app, like Tweakbox, includes an easy-to-use design and many apps and games. You don't need to jailbreak your phone to utilize PandaHelper. PandaHelper is simple to install on your phone and offers top-rated apps and games for download on your iOS device. App Store apps, Exclusive apps, Modified apps, and Modified games are the four app store categories.
How To Install TuTuBox On iPhone And iPad?
Here are the Easy Steps to Install TuTuBox on your iOS Devices to Download Tweaked Apps.
Step #1: 
Open Safari and navigate to TuTuBox.io/install.html. (Because the site contains a lot of pop-up adverts and redirection, make sure you click the download file until you see the install option.) Next, download the Signed or No Revoke file (These are Working TuTuBox Stores), and if it doesn't work, try another file from the site.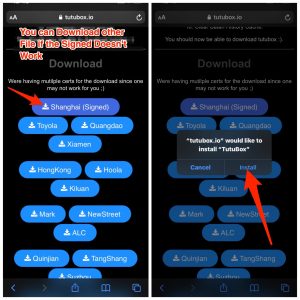 Step #2: 
TuTuBox begins downloading and installing on your app drawer as soon as you click install. You can see if the app is loading and installing on your iPhone's home screen.

Step #3: 
When you try to open the app, the "Untrusted Enterprise Developer" pop-up notification will appear.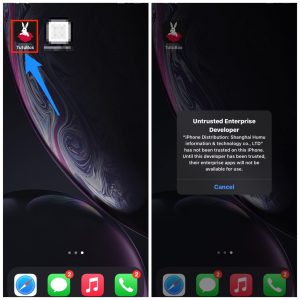 Step #4: 
To resolve the error message, click on Settings, General, and then check Profiles & Device Management. Next, look for the Developer, and you'll notice that the app is listed as Unverified.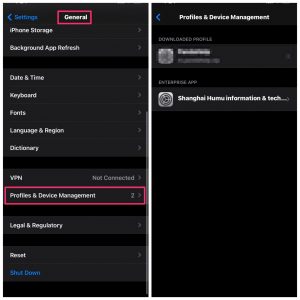 Step #5: 
To confirm, click the Developer and then tap Trust.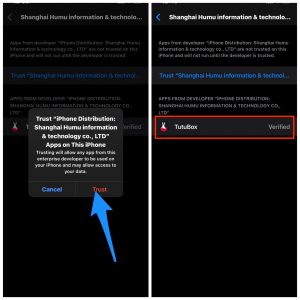 Step #6: 
Close settings and all open tabs, reopen the app, and it should operate without error.
Step #7: 
TuTuBox now offers free downloads of tweaked apps for your iOS device.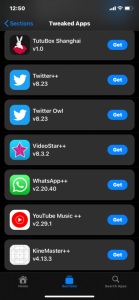 Note: When you click the "Get" button in the TuTuBox to download an app, you can see it downloading and installing in the home screen app drawer.
Be patient as the tweaked store takes some time to open.
If TuTuBox Does Not Install Directly, Use This Method
1 – First, Download DNSCloak and disable the ffapple proxy 
2 – Download and save this (Plug & Play Method) Text File on your iPhone.
2 – Easily Download and save this (Airplane Mode Method) Text File on your iPhone.
2 – Download and save this (Panda VIP Bypass) Text File to your iPhone.
3 – Open DNSCloak. 
4 – Tap on the three lines in the upper left corner.

5 – Enable "Connect on Demand" in DNSCloak Settings.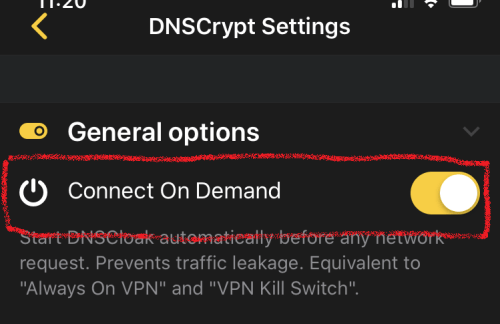 6 – Scroll down under DNSCloak settings and tap on "Blacklist and Whitelist."
7 – Select "Enable Blacklist," a file menu will appear, and select the previously downloaded file. (If you already have these settings enabled, simply tap on "Pick Blacklist File…")
8 – Return to the main page and select DNSServer "a-and-a."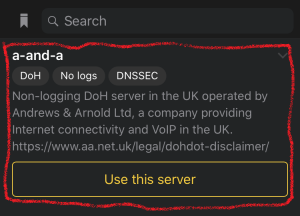 9 – Now open the settings menu. Go to "General -> VPN -> DNSCloak -> I -> Connect on Demand" and turn it.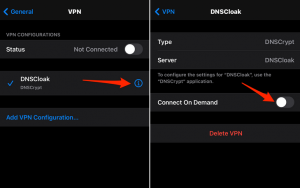 10 – Clear the Safari History Cache.
Go to Settings. In the App list, scroll down to Safari. Search for Clear History and Data and click OK.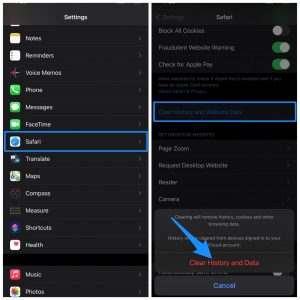 Once DNSCloak Settings is completed, you may reinstall TuTuBox; the app will install without any errors or problems.
FAQs
What If TuTuBox Is Not Working?
1 – Clear Safari Data and History before reinstalling the app.
2 – Once the TuTuBox has been installed, reboot the device.
3 – Make certain that no further unverified profiles are added to the iPhone (If added, remove).
4 – Reinstall TuTuBox App. 
5 – If the signed certificate does not work, download another certificate from the download page.
When you try downloading apps from TuTuBox, you may receive an error stating that profile installation failed.
1 – Go to Settings > General > Date and Time. Fix your clock to your country's time. Then, check the time and make sure the (set automatically) button is switched on.
2 – Switch to another network or change the data to any accessible Wi-Fi network.
Is TuTuBox Safe?
If you're an iOS user, one of the first things that come to mind is if TuTuBox is safe. Unfortunately, TuTuBox operates in a legal grey area; thus, the answer is yes and no. To begin, downloading and installing TuTuBox on your iPhone poses no danger to your device.
Not directly, at any rate. However, there is no assurance regarding the apps available in this app store. What are we saying? TuTuBox has altered or hacked versions of apps and services. As a result, there's a high possibility that these services may block your ID.
The Bottom Line:
TuTuBox is a free app that allows you to install tweaked apps on iOS 13, 14, and 14.1 iPhone devices. If you have any opinions on How to Download and Install TuTuBox on iPhone? Leave them in the comments section below.