How to Fix GroupMe Not Working on iPhone? With the popularity of messaging apps like Hike, Whatsapp, and Signal, Microsoft and Skype have launched features to launch GroupMe, an instant messaging service that will be similar to other popular messaging apps. Along with things like messaging, stickers, custom groups, and sending messages to a large number of people at once.
GroupMe also works with text, which is a great feature for users who don't have smart phones. But since GroupMe was launched, users have been working issues and saying that GroupMe doesn't work on iPhone. This is a serious issue, because sometimes the app won't load or the messaging won't update, even if the internet connection is there.
In this topic, we'll talk about app issues and how to fix them. Please note in mind that the app is an instant messaging app and needs to be connected to the internet to work. So, before you try any of the methods below, I recommend you first figure out why you can't connect to the internet.
Top Ways to Fix GroupMe Not working on iPhone
People have been complaining for a long time that GroupMe doesn't work on the iPhone. Thousands of people have said the same thing on Reddit and Microsoft forums. All of these complaints are about the same few problems, like GroupMe always crashing, GroupMe not loading, GroupMe app not starting, GroupMe login not working, GroupMe loading very slowly, etc.
GroupMe Not Loading or Not Working: Server or Connection error
Many users have reported problems with connectivity and apps that won't load.
Often, the app doesn't load or gives strange error messages like "server error" or "connection error." Most of the time, these errors are caused by issues with connectivity. To fix them, check out the following solutions:
iPhone Restart
Press the iPhone's side button.
Tap Slide to Power Off on the screen that comes up. The iPhone will stop working.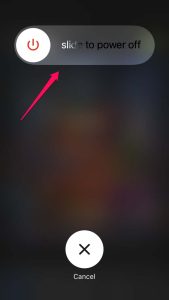 Now, press the side button again after a few seconds to switch on the device.
Disable VPN
Open the Settings app, scroll down to VPN, and disable VPN off to turn it off.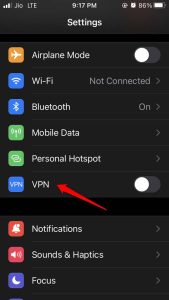 Turn off and on the GroupMe app.
Update the GroupMe app.
Get rid of GroupMe and instal it from the App Store.
Set Automatic Time on iPhone
Enable automatic time on the iPhone so that the time will be shown based on where the device is in the world. When the wrong time is shown, it might change how certain apps work.
Tap on General in the Settings app.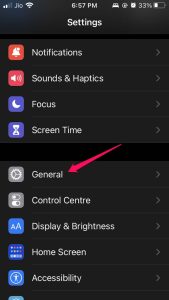 2. Go to the Date and Time page. Tap on it.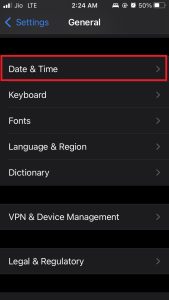 3. Turn on Set Automatically under that.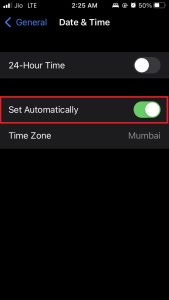 4. Now, shut down App Store and open it again. This should fix the issue with searching the App Store.
Disable the Low Power Mode
When Low Power Mode is turned on in the iOS battery settings, it turns off some other features. These include running tasks in the background, automatic downloads, screen brightness, and limiting the features of other apps to save battery.
Open the app for Settings.
Find the Battery and then tap on it.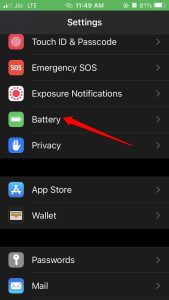 3. To disable off Low Power Mode, tap on the switch next to it.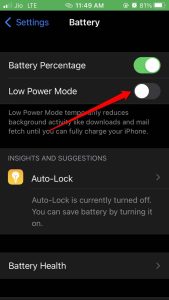 Fix Blank Screen or App Crash Issue in GroupMe
Many users have had problems where the app won't load and the screen is either black or white. Users can't check their messages or do anything else because of this issue.
Most of the time, it's a short-term issue that can be fixed by restarting the device.
Some solutions to fix the above issues could be:
Close the GroupMe app and open it again.
Restart your iPhone.
Check to see if you can get online.
Update the GroupMe app.
Get rid of GroupMe and then instal it from the App Store.
GroupMe Login Issue or Account-Related Issues
You could get stuck on the login screen or have issues with your account. You don't need to worry because you have more than one way to sign in. But if you still feel like you can't get into your account, you can try the following things:
Hold on until the Server is fixed (usually takes 5-12 hrs).
Check the status of your cellular and Wi-Fi connections.
Check each other's credentials to make sure they are right.
If you use social logins like Facebook and Google, make sure you use the right account case.
Your account might be banned, in which case you'll need to contact support to get your account unbanned.
Audio/Video Loading Problem with GroupMe
In many cases, you might have issues with audio or video files in the app. This could be because your headset or Bluetooth speakers are not set up right. You can try the following troubleshooting steps to fix the same thing:
Toggle phone volume.
Attempt to use headphones.
Check your internet connection if a video isn't loading or is blurry.
Wrap Up
This is the end of this guide on how to fix GroupMe not working on iPhone and similar issues. Please note in mind that GroupMe is made for iOS 14 and up. So, if your iPhone is running an older version of iOS, we recommend you update to the latest iOS 15 for better features and app compatibility.
If you have any thoughts about How to Fix GroupMe Not Working on iPhone?, feel free to leave them in the box below.