Fix Instagram Not Playing Videos Automatically: Android and iPhone. Does Instagram not play videos on your phone by default? Then it can be very annoying when you're ready to watch a good video on Instagram but the video won't play. I gave you some troubleshooting tips that you can use to fix the problem.
People mostly share photos on Instagram, but a large number of its users also share videos. When Instagram videos won't play, it's often because of a bug in the app. On an Android device, it could be that the app's cache is full of useless data.
When we hear that videos on Instagram won't play, the first thing that comes to mind is a slow internet connection. If the video had offensive content, Instagram may have taken it down. If the account that shared the video has made it private, the video and other content that account has shared will be hidden. This means that the video won't show up in your feed.
Tips to Fix Instagram Not Playing Videos Automatically
Here are the different fixes you need to make to get your Instagram videos to stream smoothly.
Update Instagram App
There are always bugs out there that make it hard to use even the best smartphone apps.
Instagram isn't a different case. Update the Instagram app to a newer version to remove the chance of bugs.
1. Start up the App Store.
2. Tap the picture of the connected Apple ID's profile.
3. Now, check at the list of apps that need updating.
4. Tap Update if Instagram is already there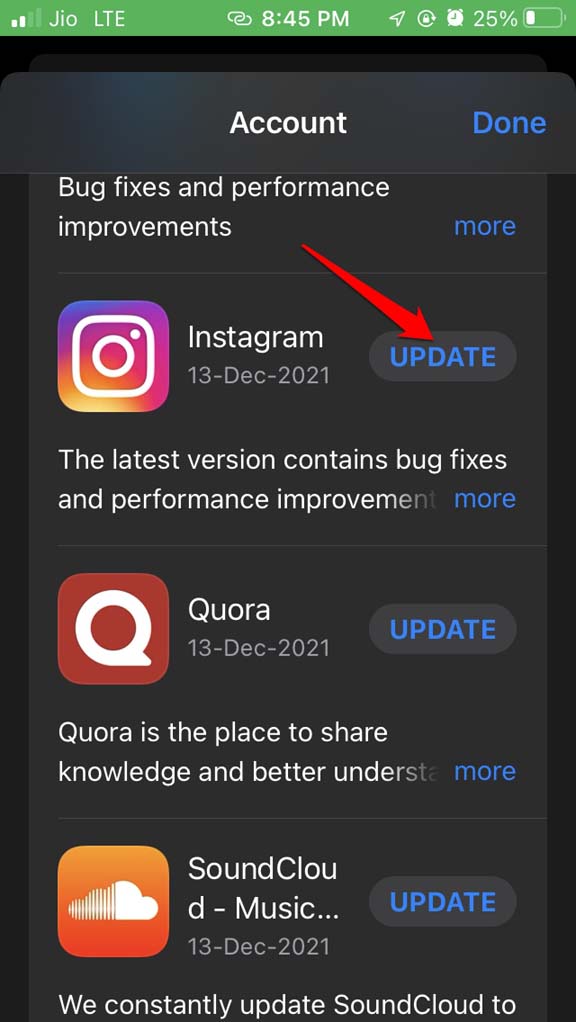 Android users can launch the Play store app to get the latest update of Instagram. Go to Apps & Device Management. Tap on the Updates Available link below that. If there's an update for Instagram that needs to be installed, go ahead and do it.
Clear the Instagram App Cache
If you use Instagram on an Android phone or device, follow this tip. If you clear the app cache, it will get rid of any junk data or temporary files that are in it.
Press and hold the Instagram app icon.
Choose App Info from the shortcut menu that pops up.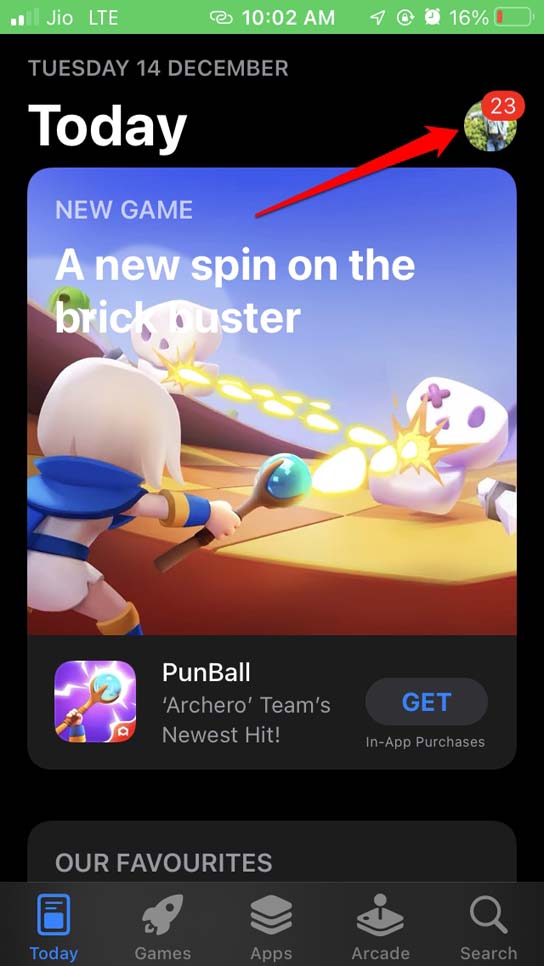 3. Tap Storage & Cache under "App Info."
4. Then you should tap Clear Cache.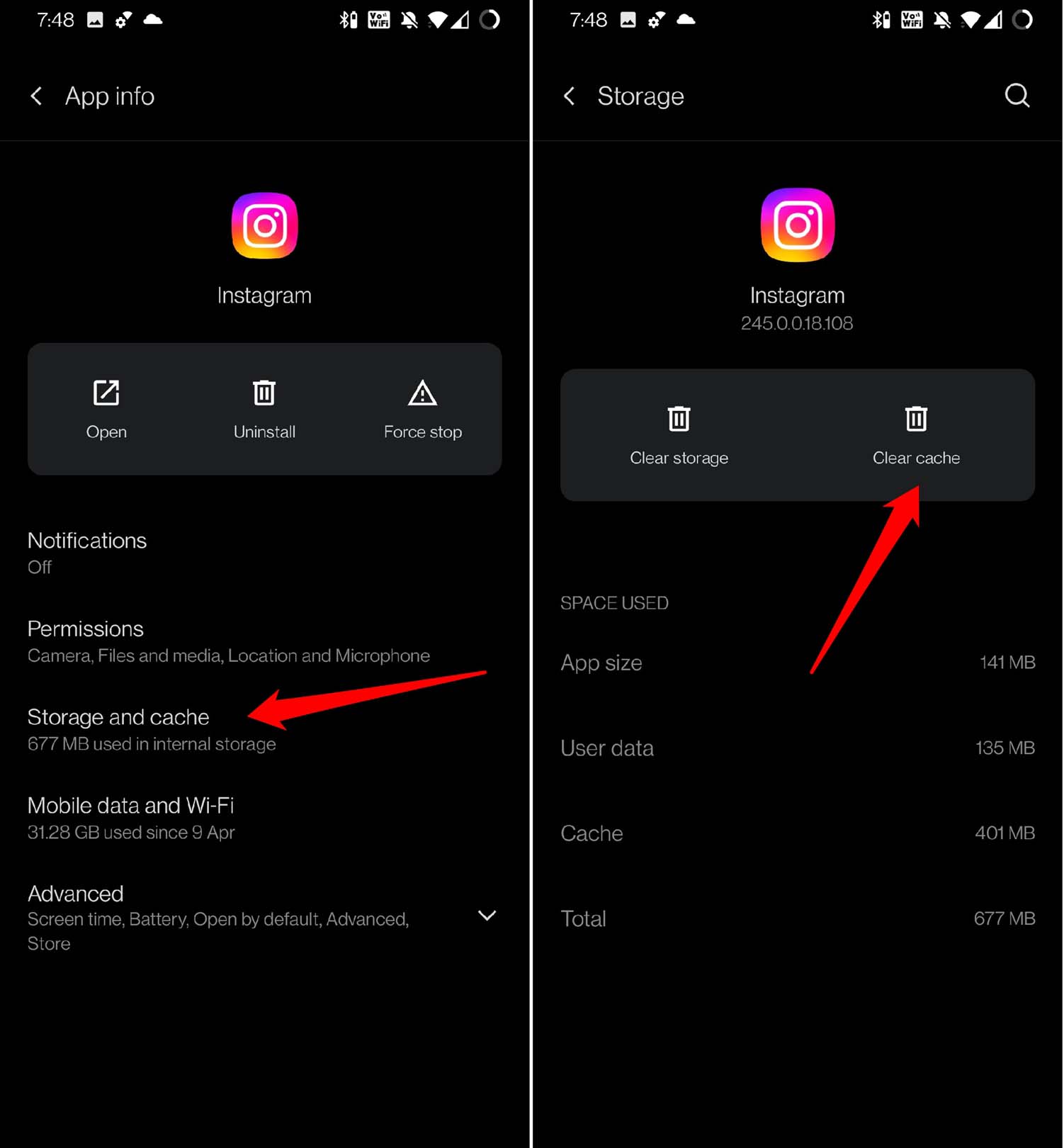 5. Launch Instagram after a few seconds and try to play the video.
Use a Stable Internet Connection
You need to check out if your ISP's network is down. Try using other apps and check to see if all other services are working or have stopped. If nothing is working, it might be the internet's fault. Contact your Internet service provider and ask for help.
You can also connect your device to a different wireless network or WiFi. Videos on Instagram will only play smoothly if your device is connected to a stable, lag-free network.
Log Out of Instagram and Log in Back
Often, logging out of Instagram and then back in has helped fix a few random bugs in the app.
1. Tap on your profile icon in the bottom right corner of the Instagram home page.
2. Then tap the button that looks like a sandwich in the top right corner.
3. Choose the settings.
4. Go to the bottom of the page and click the "Log out" button.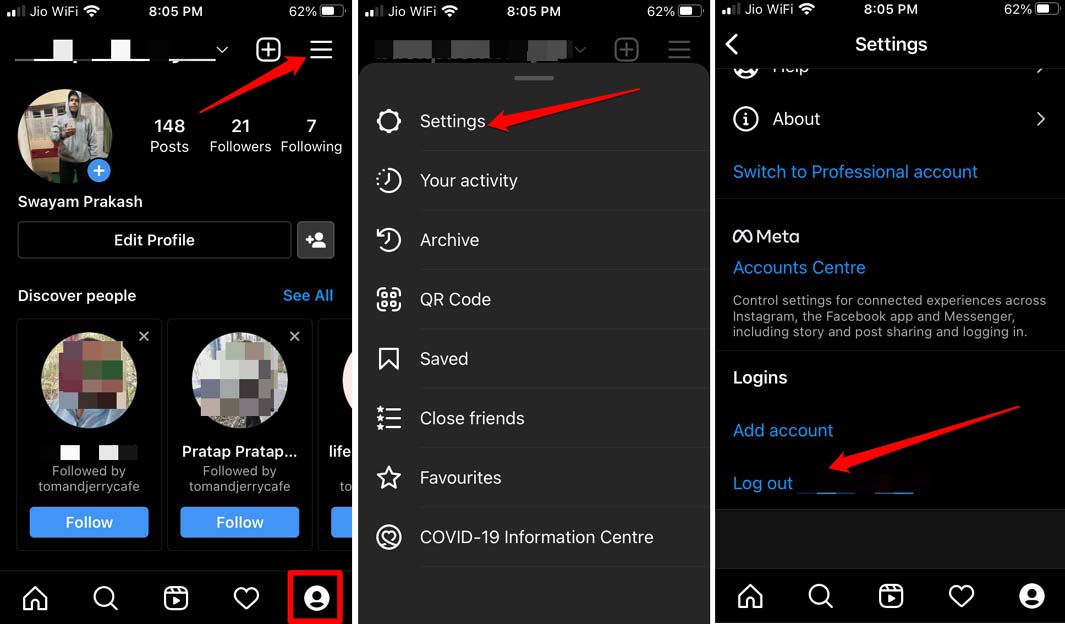 Disable Low Battery Mode
Users of the iPhone have to disable off the low battery mode.mWhen the iPhone's battery goes down to 20%, this feature will start working on its own.mYou can also manually turn it on by going to the iPhone's control centre. If you see that your iPhone is running in low battery mode, you can charge it. Once the battery goes over 20 percent, the low battery mode will disable off on its own.
You can also turn it off in the settings on your iPhone.
Launch the app for settings.
Then, navigate "Battery" and tap it.
Tap the switch next to Low Power Mode in the battery settings to disable it off.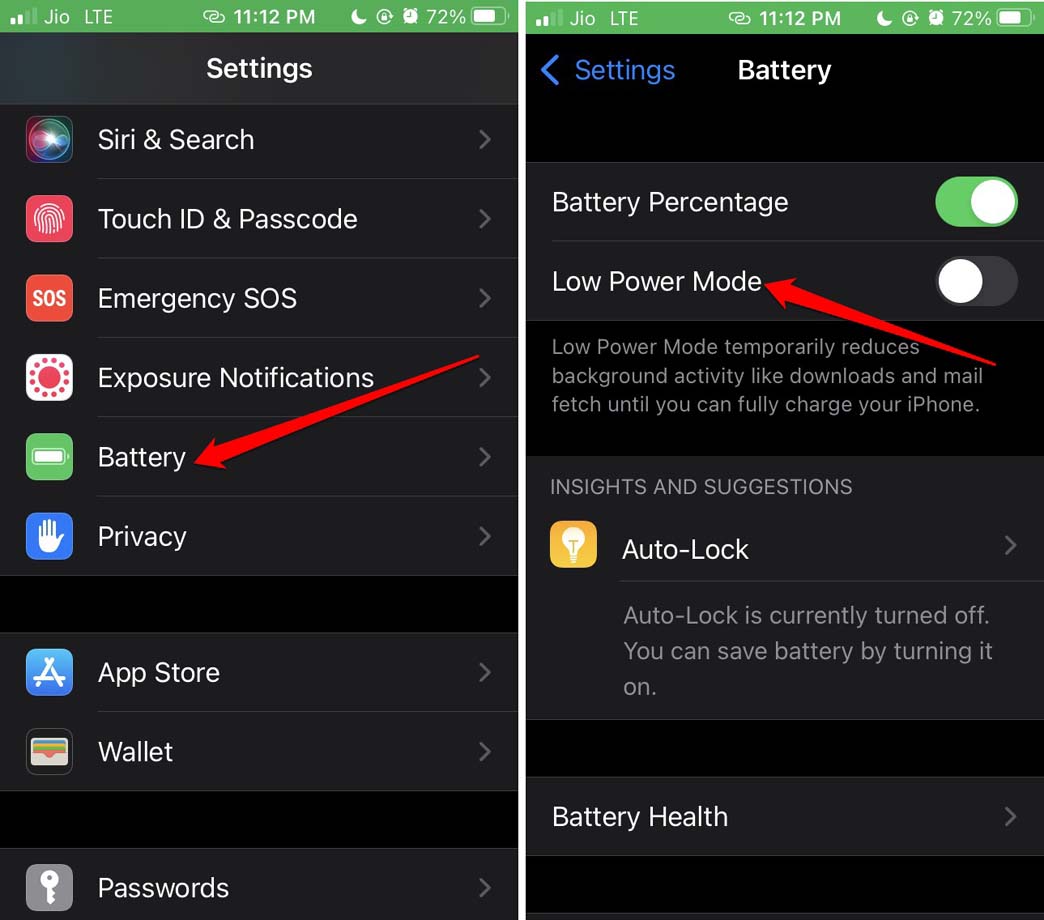 The Instagram Video is Geo-Blocked
Maybe the video you want to watch is blocked in your country. This means that people who use Instagram can only see it in certain places around the world. Usually, it's up to Instagram to decide what a video is and whether or not to geo-block it. You can get around the region block by using a VPN, but that might not always work.
Do Not use Data Saver Mode on Instagram
Instagram has a feature for users who use the app on their data. The data saver feature is built into the app so that you don't waste all of your data at once. If you turn it on, high-quality photos and videos may take longer to load. You can turn off this feature in the Instagram settings.
1. Tap the profile icon when Instagram is open.
2. Then tap the button with the two lines and choose Settings.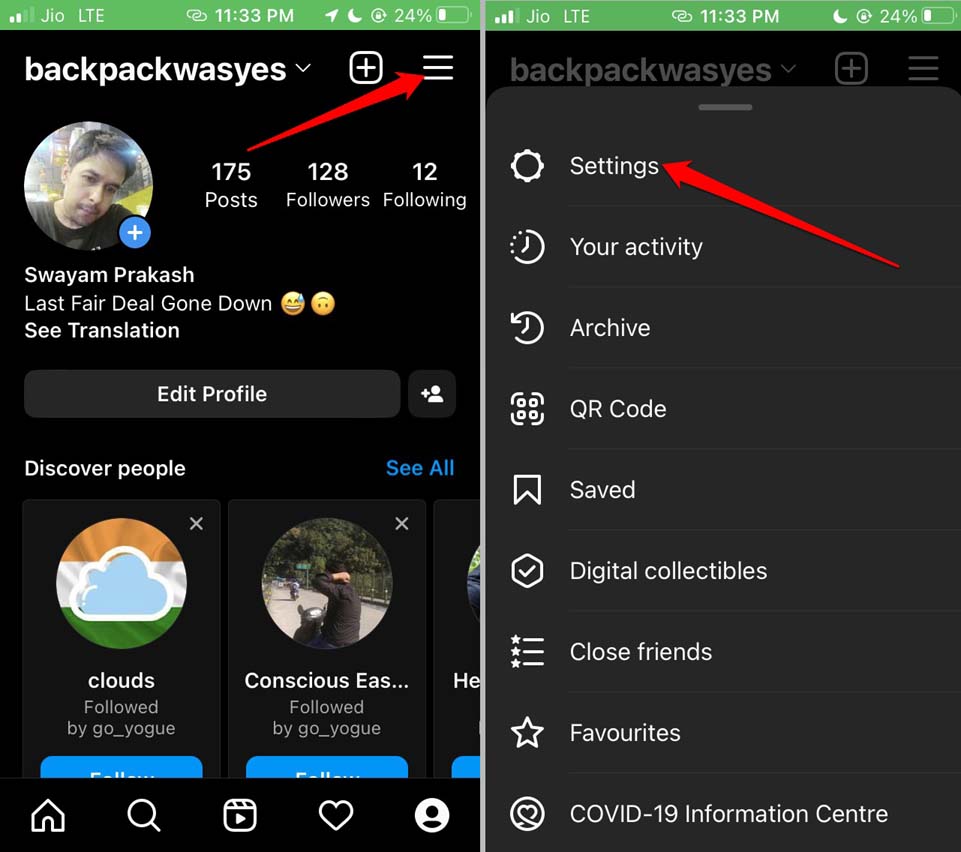 3. Now, find "Account" and click on it.
4. Tap on Data Usage in that menu.
5. Tap the switch next to Use Less Mobile Data to disable it off.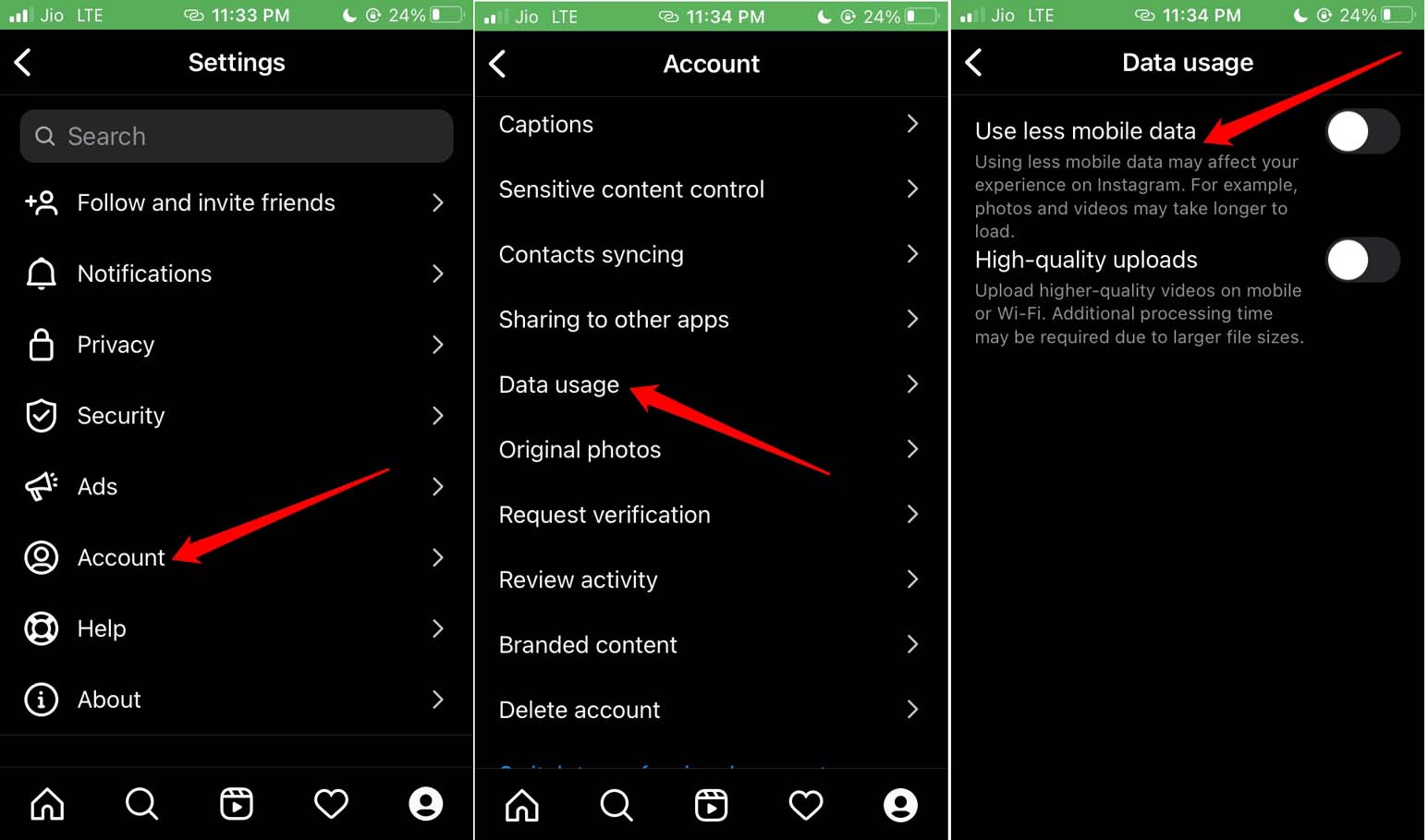 Check If the Account Posting the Video is a Private Account
The profile that posted a video may switch to a private account for personal reasons. You can't see that account's content, including the video, unless you send them a request to follow them and they accept your request.
If the owner of the Instagram account deleted it, the video might no longer be available.
When an Instagram account is deleted, all of its photos and videos are also deleted.
Has the Video Been Deleted from Instagram?
The person who posted the video may have taken it down, or Instagram may have taken it down. If the second is true, it's likely that the video had some content that broke Instagram/rules. Meta's
The person who uploaded the video may also take it down from their profile, usually for personal reasons. If the account is present to the public, you can find out if the video is no longer there.
Conclusion
A lot of users who use Instagram like to watch Instagram videos and reels. So, not being able to stream short, fun videos is a bad thing for anyone who uses social media. I hope these tips will help you fix the issue where Instagram videos don't automatically play on your phone.
If you have any questions or comments about Fix Instagram Videos Not Playing Automatically: Android and iPhone, feel free to leave them in the box below.