Fix Windows 11 Update Not Showing: Windows 11 is now available as a free upgrade for all systems that satisfy the hardware requirements. But it's far past October 5th, and you still need to receive the official update. So what is the reason behind this, and what can you do to receive Windows 11? Let us find out!
What Happened To My Windows 11 Update?
Although Windows 11 was released on October 5th, many people have been waiting with bated breaths, but they have yet to effect. Microsoft intends to release the update in stages, as it has done with previous Windows enhancements. Aside from generating more income from OEMs such as Dell and HP that license Windows OS, the staggered rollout will also ensure that any issues discovered may be fixed before most users receive the update. After that, however, the wait is shorter. Microsoft anticipates that all compatible Windows 10 systems will receive the Windows 11 update by Q2 2022.
Why Can't You Find Windows 11 Update?
You might still need to get the Windows 11 update for various reasons. The most notable ones affecting users worldwide are given below.
Conflicting Temporary Files – If you previously attempted to download Windows 11 and experienced an error, this might be why you need help to obtain the free upgrade to Windows 11.
Not Running Windows 10 – If you are still using Windows 8, 8.1, 7, or XP, Windows 11 is not a free upgrade. To be eligible for a free upgrade, you must first purchase Windows 10.
Incompatible System – In addition to the standard CPU, GPU, and RAM requirements, Windows 11 requires TPM 2.0 and Secure Boot to ensure optimum system security. You must meet these requirements to receive the free upgrade to Windows 11 through the Settings app.
Broken Windows Update Service – If you have recently used a debloated or registry cleaner that stops Windows updates, the Windows Update service is most likely broken in the background. You must fix the service for the Windows 11 update to show in the settings app.
Not An Admin Account – If you're using a work or school-issued computer, this might be why you have yet to receive the Windows 11 update. Unfortunately, you have a local or standard account that cannot install features or OS updates to Windows. In such instances, we recommend contacting your administrator and inquiring about a Windows 11 upgrade.
Pre-built Systems – If you've a pre-built system or a laptop, your OEM will likely push the Windows 11 update instead. However, this may take some time because most laptop manufacturers are working on updated Windows 11 drivers for both new and old devices to ensure optimal compatibility.
Depending on your setup, several factors might prevent Windows 11 from showing in Windows Update. However, you may use the fixes listed below to help fix this issue and install Windows 11 on your PC via Windows Update.
How To Easily Fix Windows 11 Update Not Showing?
Here's how to solve Windows 11 update not showing on your PC. Follow the steps in the list below until you've resolved your problem.
Check If Your Desktop PC Meets The System Requirements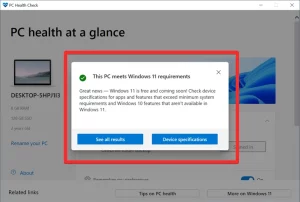 To run, check whether your PC satisfies the system requirements for Windows 11. Microsoft will release the update if the hardware requirements are met. Although users may circumvent this and install Windows 11 even if their system hardware is inadequate, this is not typically recommended.
Make Sure Windows Update Is Working
It's also conceivable that you delayed Windows updates in the past and forgot about it or that an app or a bug blocked the feature.
1 – To check, press Win + I to launch Settings. Click on Update & Security.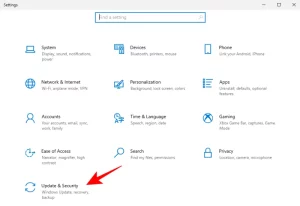 2 – If your updates have been suspended, click Resume updates.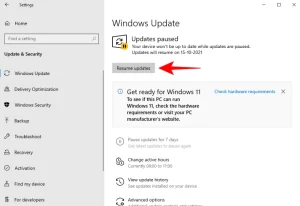 Restart PC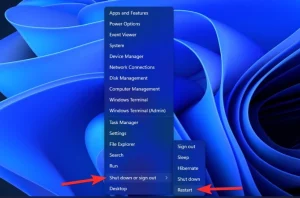 Well, corrupted temporary files can sometimes cause Windows updates to fail; the quickest way to fix this is to restart your PC. It's a quick and straightforward fix that takes no time to implement. As a result, give your computer a gentle restart and check for updates. To restart your PC, hit the Windows key + X, then click "Shut down or sign out," followed by Restart.
Troubleshoot Windows Update
Windows has a troubleshooter that may diagnose fixes and recommend solutions. In many circumstances, the Windows Update troubleshooter will find what prevents updates from being installed and recommend solutions. Here's how you do it:
1 – To launch the Settings app, press Win + I. Then, at the bottom, click Update & Security.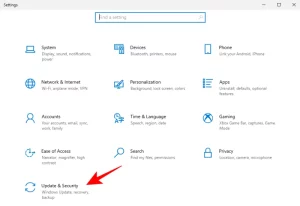 2 – On the left, click Troubleshoot.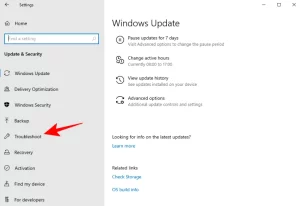 3 – Select Additional troubleshooters from the menu.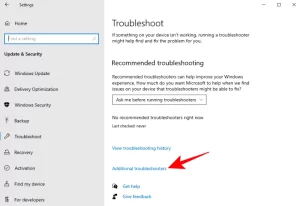 4 – Select Windows Update.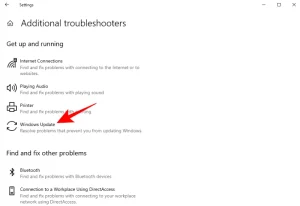 5 – Click Run the troubleshooter.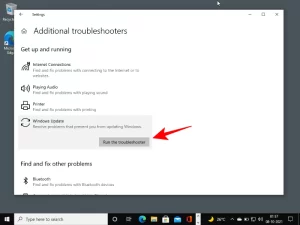 The troubleshooter will begin looking for issues and provide potential fixes if any are discovered.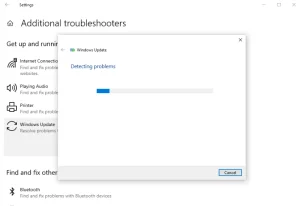 Upgrade With Windows 11 Installation Assistant
The fixes above will ensure that all accessible channels are open and ready to make Windows 11 updates once they become available. However, if you need Windows 11 right now, these final few approaches will assist you. In addition, with the introduction of Windows 11, Microsoft's website now hosts the official Windows 11 Installation Assistant. With this help, installing Windows 11 is a breeze.
Run in-place Upgrade With The Windows 11 Media Creation Tool
If you still need to get the Windows 11 update, you can upgrade using the Windows 11 Installation Media. You'll need an empty USB flash drive (at least 8GB).
1 – On the website mentioned above, click Download Now under "Create Windows 11 Installation Media."
2 – Insert your USB drive and run the Media Creation tool you downloaded. Accept the offer.
3 – Select Next.
4 – With the "USB flash drive" option chosen, click Next.
5 – Choose your USB drive from the "Removable drives" list and click Next.
6 – It will take some time for the setup to download and install the Windows 11 upgrade.
7 – When the process is finished, your USB device will be ready to use with Windows 11 (or any other compatible PC). You may do so by booting from the USB and following the on-screen instructions. You may also go into your USB drive (through File Explorer) and run setup.exe.
8 – This will open the Windows 11 Setup window. To update to Windows 11, follow the on-screen directions.
Wait For The Microsoft To Roll Out Windows 11 Update To Your PC
If the Windows 11 update isn't yet available for your PC, and you don't want to upgrade manually, your only option is to wait. Microsoft is gradually distributing the Windows 11 update to all PCs that meet the system requirements. It is expected to be ready on PC around the middle of 2022.
Enroll In Windows Insider Program
If you still need help upgrading to Windows 11, the official method, despite completing all of your requirements, you can enroll in the Windows Insider Program instead.
This will enable you to get beta and dev updates for Windows 11, which should let you install Windows 11 via the Settings app.
Install The Windows 11 Manually On A supported PC
We recommend manually upgrading your PC if you meet Windows 11's minimum requirements. On this device, ensure that Secure boot is enabled. This will allow you to upgrade to Windows 11 using Microsoft's Installation Assistant manually.
Does My PC Support Windows 11?
If the preceding fixes do not work, your PC may not be compatible with Windows 11.
1 – Go here to download the Windows 11 PC Health Check app. If it doesn't start downloading immediately, click the Download button in the upper left.
2 – Double-click the downloaded file to launch the PC Health Check app on your PC.
3 – Click the "Check now" option.
4 – If the PC is compatible with Windows 11, you will get the following screen:
5 – Rerun the Windows 11 Installation Assistant if your PC passes the requirements. It will work. However, if your PC is compatible with Windows 11, you will get the following screen:
In this instance, check the fix for installing Windows 11 on an unsupported PC just below.
How To Easily Install Windows 11 On An Unsupported PC?
Because Windows 11 has been around for a while, there are several ways to get around the requirements for installing it on an unsupported PC.
FAQs:
With so many options for resolving this issue and installing Windows 11 on your PC, you will have some questions. So here are some frequently asked questions to get you started.
Is Windows 11 A Free Upgrade?
If you've a valid Windows 10 license, you can upgrade to Windows 11 for free if you meet the minimal requirements. However, if you are using an earlier version of Windows or do not have a valid license key, you will not be eligible for a free upgrade.
Is It Possible To Install Windows 11 From A USB?
You may use Microsoft's Media Creation Tool to create a bootable USB for Windows 11. This will allow you to boot from the USB and install it on your PC. You may create a Windows 11 ISO and make your bootable USB. Use our thorough guide to help you through the process.
Is It Possible To Upgrade To Windows 11 Home Without Internet?
Unfortunately, you will require an internet connection to authenticate your Windows 11 Home license and install the essential functionality on your system. Unlike the Pro and Enterprise editions of Windows 11, the Home edition requires several services and apps to be downloaded from the internet. During the first OOBE setup, you will require a Microsoft account and an Internet connection. However, you may switch to a local account once you've created your first user account.
Is It Possible To Use A Windows 7 License Key On Windows 11?
As previously stated, you will require a Windows 10 or 11 license key to be suitable for a Windows 11 upgrade. Therefore, we recommend you get Windows 10 and then upgrade to Windows 11 for free after installing it on your PC.
Conclusion:
We hope this guide assisted you in obtaining the free Windows 11 update through your Settings app. If you've any issues or have any free questions, please leave them in the comments below.